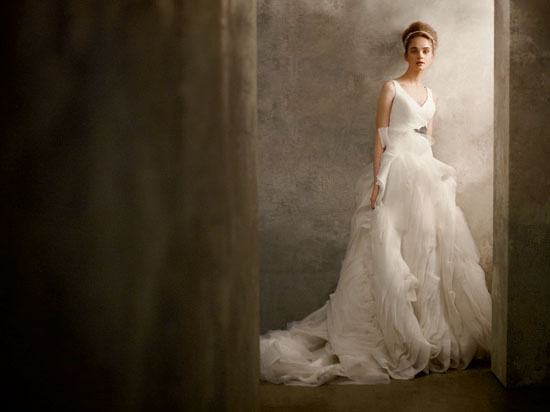 NEW YORK, Mar 4, 2011/ — Vera Wang, the world's most influential bridal fashion designer and renowned for her modern approach to bridal design has launched WHITE by VERA WANG at David's Bridal.
Debuting its inaugural collection in 150 David's Bridal stores nationwide beginning on February 11, 2011, WHITE by VERA WANG brings the famed designer's design aesthetic to a broader audience at an attainable price point. The collection will provide more brides the opportunity to wear the designer gown of their dreams.
From a strapless, fairytale princess ball gown to a one-shoulder goddess column dress, there is a diverse range of ethereal looks for traditional and modern brides alike. The Spring 2011 collection is comprised of 12 styles priced between $600–$1,400; with subsequent collections to launch each fall and spring season.
Drawing inspiration from her love of the arts, the ball gowns in the collection were inspired by the works of Edgar Degas. With dresses ranging from classic princess designs to modern slim silhouettes, each style is truly unique and distinctive. White by Vera Wang is an assembly of exquisite creations that evoke romance and emotion, exuding an air of lightness and sophistication. The collection is sketched using a romantic palette of soft white, ivory, blush, and champagne.
Through her designs, Vera Wang has created an aspirational world that reflects sensuality and youthful sophistication. With her talent, Vera is able to create a story that seamlessly conveys qualities shared by all brides alike – passion, femininity, and individualism!
"I'm excited to partner with David's Bridal as the exclusive retailer of the White by Vera Wang collection," says Vera Wang. "This collection embraces my true design aesthetic and through David's Bridal, I look forward to sharing my creative vision with brides across the country."
At launch, 150 stores across the US will carry White by Vera Wang in sizes ranging from 0 -14, while all David's Bridal locations will offer brides the ability to order their desired gown.
The White by Vera Wang collection will also be available at David's Bridal new Canadian stores, opening in March 2011. Arriving this Summer, the Fall 2011 collection will expand to offer bridesmaid dresses and shoes.
The Fall line will also include new bridal gown styles as well as additional bridal gown sizes 16 -26.
More information about the collection can be unveiled online at www.davidsbridal.com