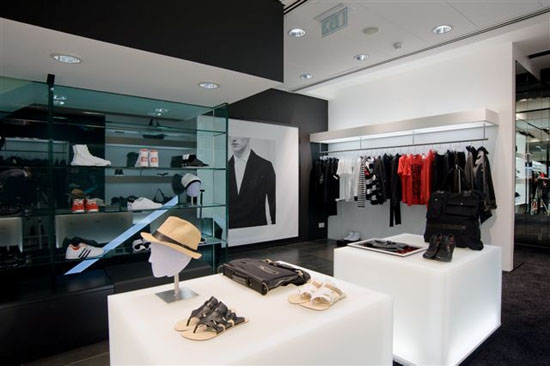 LONDON, Mar 11, 2011/ FW/ — With Yohji Yamamoto and Zinedine Zidane in attendance, Y-3 opened its first flagship store in London on Thursday, March 10, 2011.
A stand alone boutique, the Y-3 store is located at 54 Conduit Street, Mayfair and sits across from the Yohji Yamamoto boutique.
Y-3 celebrated the opening with an in-store reception and party at Paramount. Y-3's Creative Director, Yohji Yamamoto & football icon Zinedine Zidane as well as adidas' Creative Director Dirk Schoenberger were in attendance along with local notables such as Tallulah Harlech, Jameela Jamil, Estelle, Mary Charteris, Valentine Fillol- Cordier, Henry Holland, Rupert Everett, Terry Hall, The XX, and Bip Ling.
The store's interior, featuring industrial materials and an ultra-clean aesthetic, perfectly reflects the brand's global signature retail concept. The 200 square metres, two floor space has been customized to reflect a modern aesthetic with clean lines and great depth.
adidas and Yohji Yamamoto pioneered the fusion of sport and style in 2001 with their initial collaboration of exclusive footwear styles designed by adidas for Yohji Yamamoto's signature line. Subsequently Y-3 launched in October 2002 with the Spring/Summer 2003 season in Paris. The London store opening marks ten years of this successful partnership.
Since September 2004, Y-3 has expanded its own retail business across Asia, Europe, the Middle East and the US. Recent openings have included Miami, Los Angeles, Milan, Beijing and Dubai.
Y-3 Conduit Street will debut with the Spring/Summer 2011 collection and will carry the full range including men's and women's apparel, footwear, accessories as well as the kid's range.
Y-3 LONDON
54 Conduit Street, London W1S 2YY
T +44 (0) 207 434 2324