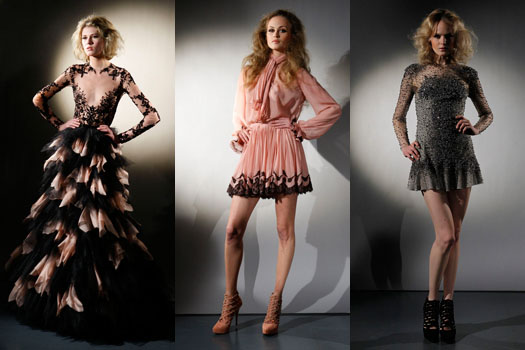 PARIS, Mar 11, 2011 / — In a declination of his haute couture collection, Zuhair Murad was inspired by the vaporous sensuality of the Demoiselles by David Hamilton, of Emmanuelle played by Sylvia Kristel for his prêt-a-porter Fall 2011 collection.
The ribbons are back in grace in a leitmotiv as obsessive than discreet, out of time like a love song. By focusing on theses ribbons, knots and lace, Murad revives the stream at the same time discreet and powerful who made a whole generation of young girls dream.
In an aerial palette of ethereal salmon, pink powder, verdigris, ivory, mastic, always ran through few black pieces, Zuhair Murad celebrate a discreet eroticism in a multitude of jersey silk, Georgette, satin and draped chiffon.
Throughout these soft and bright textures comes the iconic print of the collection: an interlacing of ribbons which is formed and comes loose around the dresses, around shirts and skirts, sometimes mini, sometimes flared and around blouses « second skin », prolonging flared trousers in the fluid fallen.
The lace print plays on the transparent muslin, tattoo effects. The mini dresses delicately embroidered are acclaimed season-by-season. The transparent kaftans ease sharpened silhouettes by the skin-tight dresses and haloing them with a vaporous cloud.
It's the essence of the femininity that Zuhair Murad tries to trap in this collection, who brings back the romanticism in a bang on the stage of cocktail parties, balls and big dinner parties.
Photos courtesy of Zuhair Murad