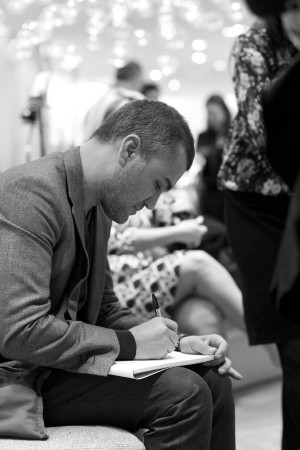 NEW YORK, Apr 1, 2011/ FW/ — On March 24th, at Saks Fifth Avenue's famed shoe department, internationally renowned shoe designer Edmundo Castillo debuted his Spring 2011 collection to an anticipatory crowd who had been waiting since February for the shoes to reach store shelves.
The 2001 winner of the CFDA Best Emerging Accessories Designer award, Edmundo Castillo has been a fashion darling since the beginning of his career. Though an still virtually unknown in 2004, Castillo was hired as Creative Director for esteemed fashion house Sergio Rossi, a position he held for 5 years.
Not even taking a break after leaving Sergio Rossi, Edmundo Castillo started reviving his eponymous label which was put on hold when he was at Sergio Rossi. Castillo insists on evolving with the times, saying "Designing shouldn't be about looking back. It's about moving forward."
With his namesake collection, Castillo aims to bring footwear into the 21st century. Pushing the boundaries, experimenting with new technologies and finding inspiration in the modern day woman's life; the result – on February 2011, he had a soft launch of his namesake women's collection.
"I aim to make beautiful, high-quality shoes that women not only want to wear, but collect." says
Castillo.
"The beauty of a shoe is in how it transforms and takes life when it makes contact with the foot and graces it, instead of just covering it. Shoes are like makeup for the feet. I focus on creating feminine, sexy shoes, made of only the finest materials; classic shapes with a modern edge."
Inspired by light and simple modernity, Castillo's Spring 2011 collection is timeless and graphic in design. The designer dipped into a cosmetic-like palette, incorporating hues of peach, coral, fuchsia and turquoise throughout.
High shine leathers, rich suedes and viper snakeskin, in combination with unique wood grain prints, meshes and cords make for a creatively distinct collection all his own. Especially enthused by this era of fascinating new technologies, Edmundo Castillo proudly debuts the light sandal, a spectacular luminescent; the first of its kind.
Men too rejoice as Castillo and partner Manuele Bianchi launch a line of men's footwear, entitled Casbia for Spring 2011. A superior breakout collection composed of ten key styles, one pair to suit every facet of a man's life, makes Casbia a must-have collection for every guy's closet. An avid men's shoe collector himself, no one knows better than Castillo.
From the red carpet to the runway, the designer's exotic designs can be found on display. Castillo has attracted the attention of collectors and celebrities such as Kate Moss, Beyonce, Demi Moore and Cameron Diaz. Season after season, Castillo is sought out by the industry's most renowned ready-to-wear designers (Narciso Rodriguez, Tommy Hilfiger and Oscar de la Renta, Castaner, Sontoni, Donna Karan and Ralph Lauren to name a few) for his collaborative efforts in footwear design.
[MARI DAVIS]
Photos by Isauro Martinez-Cairo