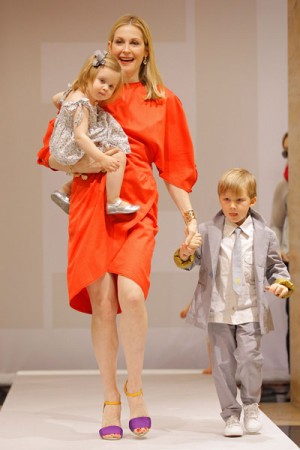 NEW YORK, April 15, 2011 / FW / – Looking cute and being 'you' comes naturally during youth.  That's precisely what the children were doing yesterday at Fendi's Fifth Avenue flagship store.  Celebrating the Kids SS 2011 collection launch, Gossip Girl actress Kelly Rutherford hosted in partnership with Lyss Stern's Divalyssicious Moms, a social network for moms and their little ones.
Designed with the principle of quality, craftsmanship, and 'Made in Italy' approach, the runway featured stylish clothes with adorable confidence and flair modeled from the 4 to 6 year old boys and girls.  Girls wore printed dresses and skirts, tees and blouses, to jackets and trenches in varying colors of pink, yellow, and neutral tones.  Boys sported blazers, polo tees, shorts and button downs in nautical motifs and plaids in gray, sand, and khaki tones.  Made in cotton, linen, and silk fabrics – the line is perfect for weekend playdates to summer vacation.
Favorite pieces include the boy's tailored suits and chambray shorts and the girl's printed dresses and trench (as sported by Kelly Rutherford's kids – Hermes and Helena). 
Balloons, pictures in photo booth styled prints, cupcakes, and music completed the atmosphere fit for the 'little people' of the next generation's fashionable crowd.
[ELGENE CASTUERAS]
Photos courtesy by Randy Brooke from WireImage.com