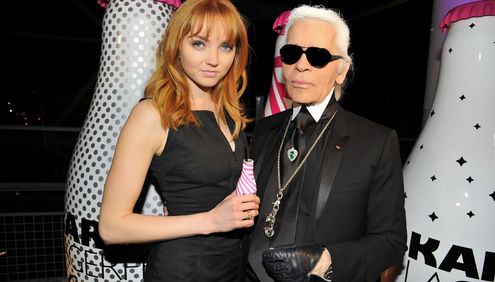 PARIS, Apr 8, 2011/ FW/ — The iconic Coke bottle with its hourglass figure is called the "contour bottle" within Coca-Cola, but it is also sometimes called the "hobble skirt" bottle in the company archives.
With a shape like that and a name like that, it is not surprising that there is an ongoing love affair between fashion designers and the Coke bottle. Many have fallen in love with the "hobble skirt", dressing it up to catch attention; its latest lover being world renowned fashion designer Karl Lagerfeld.
Lending his creative eye and flair to three limited edition bottles for Diet Coke, Karl Lagerfeld, together with supermodel Lily Cole unveiled the new designs in an exclusive party in Paris.
Karl Lagerfeld and Lily Cole partied in true style at the glamorous event, which included the cream of the fashion world and an interview with the guest of honour himself. The iconic designer and photographer was even flanked on each side by Lagerfeld replicas bringing a sense of fun to the proceedings.
In the video below, Karl Lagerfeld reveals how his design perfectly encapsulates the Diet Coke 'lighter approach to fashion'. For this exclusive collection, he adds a playful and light dimension by capturing the humorous and fun personalities of each of the Diet Coke girls, through each of the bottles.