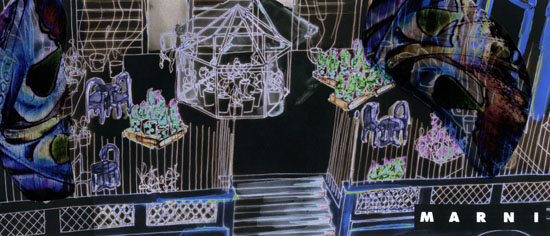 MILAN, Apr 12, 2011/ — The courtyard of MARNI's boutique on via Spiga 50 became host to plants that were traditionally part of Milan's public parks and private gardens as part of the label's participation in Salon de Mobile.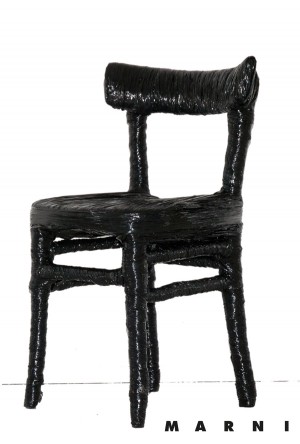 Inaugurated today and opened until April 17th, the green parlor gathers bushes and trees, medicinal and kitchen plants, creating a temporary garden, a quiet repose from the urban chaos. Unique pieces, such as small tables and chairs, made of a recycled base that has been padded and the wrapped with long strips of PVC, are part of this installation.
Each evening, the space will be animated with images of the video Lanterna Magica (Spring), created exclusively for MARNI by Sara Rossi. The images will enclose the whole surrounding with projections and backlit projections on plants, walls and objects.
The filmings of butterflies, water and blossomed trees, taken from an 'explosive' spring week in Milan, will come to life on mulberry trees covered with transparent silk cloth. Background music will fill the environment with sounds of nature, giving the visitor even more the sensation of finding himself in an unexpected garden, immersed in the city center.
Following the installation, the plants will be donated to schools for educational projects and used for the restoration of green public spaces in the city of Milan.
A Temporary Garden
April 12 – 17, 2011
Open: 1000 to 2000
MARNI Boutique
Via Senato 43
Milano