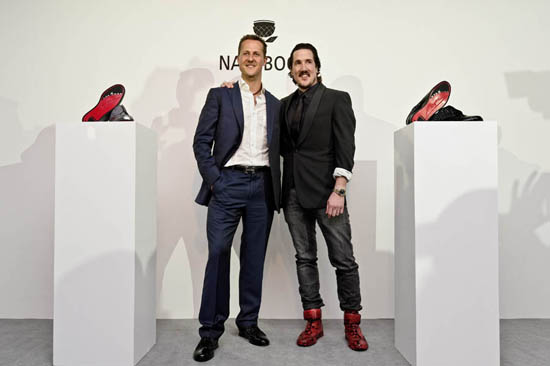 SHANGHAI, Apr 17, 2011/ — Last night at 8.30 pm, the red carpet was rolled out at MoCa, the Modern Museum of Contemporary Art in Shanghai. The launch event started with an art movie from Michel Comte, followed shortly afterwards by the ceremonial unveiling of the limited luxury sneaker collection from MSone.
The celebrations lasted late into the night with Samantha Ronson and Keith Richard's daughter, Alexandra, at the turntables.
NAVYBOOT had sent out invitations and around 500 guests came, that inclue international blogger Bryan Boy, DJanes Samantha Ronson from Los Angeles, Alexandra Richards from New York, Swiss star photographer Michel Comte and his wife Ayako, Vivian Wu, one of the most famous Chinese Hollywood stars, society lady Charlie Yeung from Hong Kong and Ruby Lin, the famous actress from Taiwan.
Also present, of course, were Formula 1 champion Michael Schumacher and NAVYBOOT's Creative Director Adrian J. Margelist, who developed the collection together and were now presenting it just in time for the Formula 1 weekend in Shanghai.
The atmosphere could not have been better and the celebrations lasted well into the early hours.
"We love being here, the party is great fun and we enjoy playing music for the party crowd. The shoes look amazing. Although these are men's shoes, I wish I could wear them tonight," said Samantha Ronson, commenting on the evening.
Michael Schumacher, who was unable to stay very long because of the race the next day, already wears the shoes. "It's a super feeling being able to wear your own shoes. My ideas were professionally realised by Adrian J. Margelist, and have resulted in these sneakers, which are really cool."
Adrian J. Margelist, who mixed among the international crowd, is also extremely satisfied: "The sneakers have turned out really brilliant. A high-­-end fashion product that's absolutely top class."
MSone, the limited edition sneaker collection, comprises four models that are available in two collector's boxes. The Starboot is limited to 88 pairs, costs around 5,000 euros, and comes with a book signed by Michael Schumacher. The materials are 18-­-carat gold and red dyed karung leather – the leather of water snakes.
The Trilogy Box is limited to 888 pairs and costs around 3,000 euros. The Trilogy consists of Morning (calf nappa leather with pearly-­-coloured ostrich leg leather), Afternoon (salmon leather with laminated goatskin and calf nappa leather) and Nightlife (calf velour leather with metal rivets, patent leather and polished crystals).
The MSone luxury sneakers will be exclusively available from midnight, 17 April, at www.navyboot.com .