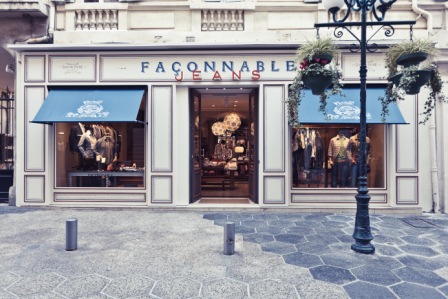 NICE, May 9, 2011/ — First came the collection, now the store. Façonnable is pleased to announce the opening of the first ever Façonnable Jeans shop, located in 10, Rue Paradis, the heart of Nice's premium shopping area and more importantly the birthplace of the Façonnable brand.
The 170 square meter space exudes the handsome, laid back attitude of Façonnable new brand, Façonnable Jeans.
Conceived by Jeffrey Hutchinson and executed by the Façonnable in house team of architects, the shop's well-appointed interiors channel the spirit of a tailor's atelier taken over and given a refresh by his son, mixing original inherited fixtures with more contemporary material, art and culture alongside tradition, a mix of craftsmanship and joie de vivre.
An eclectic mix of materials and decorative elements enhance the experience of discover. More than a store, the shop is an experience that captures the essence of this fresh, spirited brand, leveraging the Company heritage as a creative springboard.
Inviting, captivating, as well as masculine and contemporary, the Façonnable Jeans shop gives men a new reason to explore and enjoy.
Launched for Spring Summer 2011, Façonnable Jeans is a crafted lifestyle collection that features more than just superior quality five-pockets. Inspired by the relaxed lifestyle of the Côte d'Azur, Façonnable Jeans channels the best in the world of denim, while adhering to the tailoring codes, the quality and the authenticity from Façonnable.
As you would expect from a Façonnable brand, a wide range of shirts, from the handcrafted patchwork to the Japanese chambray, are key pieces to create contemporary silhouettes.
And while it may be called Façonnable Jeans, the collection encompasses much more. Soft khakis, washed cotton polos and T-shirts, sporty jackets and blousons, along with easy going accessories, such as canvas shoes, bags, caps, belts, scarves, pocket squares and even handmade ties, guarantee spot-on casual elegance seven days a week. A stylish collection with a built-in history.