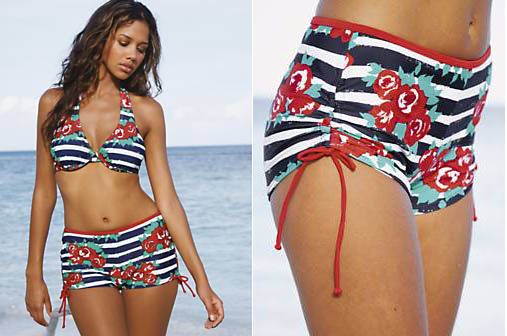 LONDON, May 31, 2011 / FW/ — With The Seychelles islands confirmed as one of the stops of the Duke and Duchess of Cambridge for their royal honeymoon, visiting the islands is the new trend for summer vacations. The question now is… what to wear?
The Duchess of Cambridge is the newly minted British fashion trendsetter. But with the photos of the royal honeymoon on embargo by the Telegraph, we have to follow our original forecast for swimwear this summer.
So, what's the top trend for swimwear? It's a bootylicious summer with detailing on the derriere such as ruching, frills and subtle stitches as finer points. From boy shorts to Brazilian, the bikini bottom is the main attraction.
And, don't forget your software and hardware. Swimsuits are held together this season with prominent metal buckles, buttons and rings that add a luxe, jewelry-like accent to sleek designs. From high-waisted to the more risqué low-rise, two piece swimsuits figure prominently in this elegant trend.
There are also animal prints! The leopards, tigers, crocodiles and pythons might not be beach denizens but women continue to bring them to the water. Hot ethnic looks also feature prominently be it from the African safari or the Australian outback. Call it the sexy wild thing.
And finally, the Shiny Happy Prints — Playful paisleys, groovy geometrics, and fun flowers and fruits in eyecatching, vibrant bursts of color provide an antidote to minimalist and monochromatic looks. These bold, bright patterns give everyone the opportunity to break out and have fun with their print bikinis.