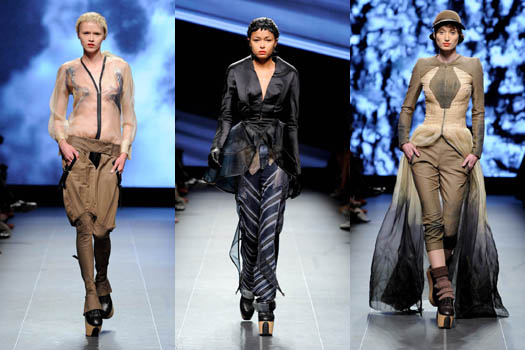 PARIS, July 5, 2011 /FW/ This season's collection from Julien Fournié was a complete 180˚ turn from his previous collection full of rainbow brights and disco fever. This time around, we were wowed with urban separates, intricate textures and fabrics, layers, and subdued, neutral colors.
The start of the show was a video made by Fashion Lab of various urban scenes set to the kind of music that gets your blood pumping.  The perfect set up for the edgy collection to follow.  The utilitarian chic pieces were mix and matched with various contrasting colors, flowy chiffon capes set off by hard edged pieces, and of course pops of color against earthy neutrals.
One defining detail was the prints on sheer fabric that were like an artist dipped the shoulders of a shirt in his paint palette, giving just the air of unfinished work, but completing the rock-and-roll aesthetic of each look.  Other details like a corset bustier crafted from nude and black materials, sparkling skinny pants, a futuristic, architectural puffy coat, and purple pleated tulle set against a classic grey suit were what set this collection apart from the rest.
Each look was finished with a pair of chunky wooden platform shoes, a modern accent to the looks.  Even the lone male model who walked in the show donned the same shoes, creating a sense of unisexuality to Fournié's collection.  Julien also kept up with some silhouettes we have been seeing a lot of this season, including the built up shoulder- like a futuristic version of the 'shoulder pad,' and plenty of sheer fabrics overlaid with opaques and beading.
And of course, keeping up with true Fournié fashion, we saw some onesies.  Perfectly tailored, feminine, one piece jumpers.  Much like the rainbow striped one Kate Moss wore in the June issue of French Vogue, this season, Julien created a nude and black version with an exposed zipper and paired it with a frothy cape.
The urban aesthetic chosen by Fournié this season was a refreshing interpretation of couture, and his execution of it was impressive.
[LINDSAY McCALLUM]
Photos by Pixel Formula, courtesy of Julien Fournie
Paris Haute Couture Fall 2011