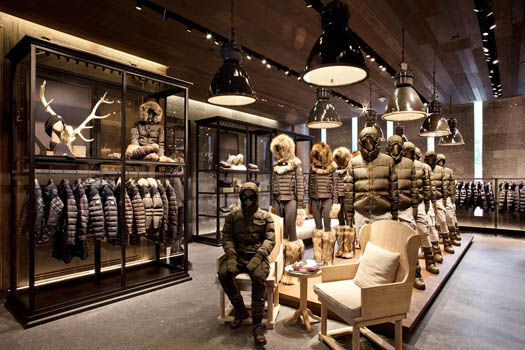 MILAN, Jul 22, 2011/ — Opening its outpost in Beijing, Moncler expands in China with having four stores in the Chinese mainland plus two boutiques in Hong Kong.
Located in The Village in Beijing, the new 516 square meters boutique represents an important stage in Moncler's world-wide distribution strategy.
Designed by the Gilles & Boissier architectural firm, are in perfect tune with the Moncler aesthetic and values: French woodwork, engraved with floral patterns in relief, contrasts the transparencies of the glass of the central counter and pierre bleu used for the walls and floor. Every detail speaks of the heritage of the Moncler world through an absolute contemporary language.
The offering of the new boutique will be complete with the Moncler men's, women's and accessories lines, Moncler Gamme Rouge "designed by Giambattista Valli", Moncler Gamme Bleu "designed by Thom Browne" and Moncler Grenoble, which looks to a cross-boundary customer living in both the city and the mountains with the same need for style and high-performance quality.
"The opening of the boutique in The Village in Beijing represents an important step for the development of Moncler's retailing and the image of the Moncler brand that doesn't involve only China but the whole Asian continent," Moncler President Remo Ruffini declared.
Boutique Moncler
The Village
Beijing
www.moncler.com