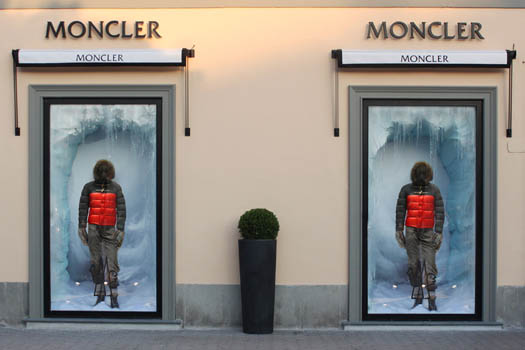 MILAN, Jul 22, 2011/ — A few days after the opening of its Vienna store, Moncler inaugurates the boutiques of Forte dei Marmi and Rome.
The fashion house, which boasts the presence of points of sale in the most exclusive ski resorts and in the greatest fashion capitals, enriches its programme of openings in Italy with its first seaside boutique and another in the capital.
The two stores, which host the Moncler men's, women's and accessories collections, were designed by the Gilles & Boissier architectural firm: the architectural firm that has designed Moncler boutiques for several years.
The Tuscan store, open to the public on Saturday, July 9th, has a surface area of 110 square meters and it is located in Piazza Garibaldi. Two large display windows introduce the Moncler world, emphasized by the French woodwork engraved with floral patterns in relief. Inside, the atmosphere draws inspiration from the lofty heights of the Alps and is enriched with marble flooring and the smoke-tinted metal detailing of the displays.
The store in Rome, which opens a week after the one in Forte dei Marmi, gives onto Piazza di Spagna, one of the most celebrated squares in the world. The new metropolitan monobrand store is located in a prestigious area, in line with the Maison's other prestigious positioning where the classic elements of the Moncler style welcomes customers in a warm, cosy and contemporary environment.
"Moncler is currently going through a very important moment of expansion. The opening of the Forte dei Marmi and Rome stores, coming within days of the opening of the one in Vienna, testifies to the attention we are putting into the implementation of our expansion strategy," declared Moncler President and Creative Director Remo Ruffini.
Boutique Moncler
Piazza Garibaldi, 9
Forte dei Marmi
+39 06 69940292
moncler.com
Boutique Moncler
Piazza di Spagna, 77
Roma
+39 0584 784660
moncler.com