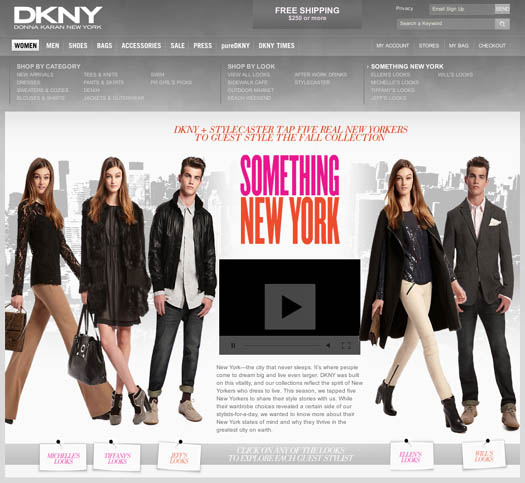 NEW YORK, Aug 19, 2011/ — DKNY tapped five real New Yorkers to interpret the Fall 2011 collection using their own personal style.
Partnering with StyleCaster.com, the disruptive social media company that creates and curates content for style enthusiasts, SOMETHING NEW YORK features each forward-thinking Manhattanite's story on fashion, career and life.
When it comes to Fashion, New Yorkers like it unscripted and like the city that inspires it, DKNYstyle is as individual as the person who wears it.
DKNY'S FIVE NEW YORKERS
ELLEN GUSTAFSON – Creator of 30 project and co-founder of the hugely successful FEED Projects,
Ellen's work focuses on changing the food system to address both hunger and obesity on a global scale.
JEFF LAUB – Co-founder of The Blind Barber, a barbershop and speakeasy that takes it back to the basics; cuts, shaves, drinks and conversation. In a year, Jeff's shop has become a cultural hub for fashion, art, music and more.
TIFFANY GONG – A native New Yorker, Tiffany is the voice behind fashion & style blog, SIX SIX SICK, as well as one-half of the design team behind the jewelry line, Triskaidekaphobia (the fear of the number thirteen). She also moonlights as a DJ with her design partner at some of New York's hottest parties.
WILLIAM RABBE – As a filmmaker, journalist & now a Producer at NBC, William's work focuses on American politics and history. He has produced numerous acclaimed documentaries, including the Telly Award-winning series 2008 Uncut, on IFC, that offered a weekly look at the 2008 Presidential Election, which he also hosted.
MICHELLE RICKS – A California native and UCLA alumna, Michelle now calls NYC home as well as the setting & inspiration for her work as a fashion illustrator & photographer.
To be inspired, see their looks, learn about their New York states of mind, and why they thrive in this modern-day Oz, visit: