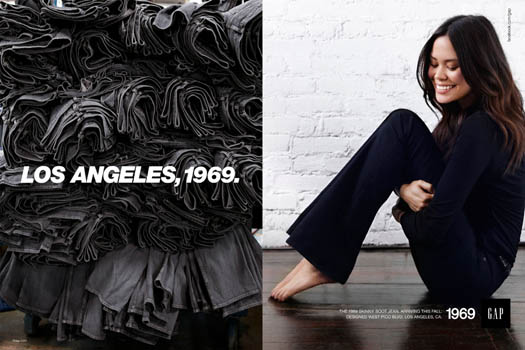 NEW YORK, Aug. 1, 2011/ — Taking a cue for reality TV, Gap's Fall global campaign takes you behind the scenes in its denim design studio in Los Angeles.
Starting with the personalities behind the denim, 1969: L.A. and Beyond gives a transparent look at the designers and how they come together each day to create the latest in denim fits, fabrics and washes. Taking it from the studio to the real world, the campaign also shows how the denim comes to life in various cities by the people who wear it.
Led by creative director Rosella Giuliani, the 1969 design team is a collective of artists, musicians, action sports junkies and trendsetters. Women's design director, Nicole King-Burroughs, turns to art for style inspiration, while women's merchant, Masako Konishi, views fashion as more instinct than intellect, applying emotion as opposed to regulated rules to make her fashion choices.
Men's design director, Jason Ferro, brings his background as a rebel skater, surfer and musician to the design table, while men's merchant, Cale Margol, uses denim as a canvas to tell a modern and progressive story. Wash specialist, Rob Crews, started in the industry when he was just 16 years-old and fell in love with the creative process of taking raw denim into a washed state through different hand treatments.
Providing further inspiration to the design team, the 1969 studio feels like the personal atelier of a denim architect, not the headquarters of a global brand.
Once a cigar factory, the vast and open loft studio is based in the heart of the garment district on West Pico Boulevard in downtown Los Angeles. This Gap denim epicenter is an ever-changing canvas for ideas, featuring art books, mood boards, vintage buttons, Japanese work wear catalogues and back issues of surfer magazines, set against a backdrop of sun-filled floor-to-ceiling bay windows.
Aligned with how people want to discover and share information, 1969: L.A. and Beyond will live primarily in the digital world via a series of video vignettes and sponsored editorial on Gap's Facebook page http://www.facebook.com/gap and on outlets such as DailyCandy, FabSugar, Glam, Hulu, LookBook, Pandora, Refinery29, RollingStone and TrendCentral.
The campaign will also run in the August issues of national magazines including Glamour, GQ, InStyle, People StyleWatch and Vogue. Customers will also see the campaign in Gap's windows nationwide where each designer will be profiled with photos and quotes. 1969: L.A. and Beyond was developed in partnership with Ogilvy & Mather and Cool Hunting.
The campaign was developed in Gap's Global Creative Center in New York, and is designed to be global with different parts of the campaign allowing international markets to balance according to their needs.