SAN FRANCISCO, Sep 6, 2011/ — Since 2005, the School of Fashion has premiered the collections of recent graduates during New York Fashion Week.
The Italian Trade Commission Collection
The Italian Trade Commission Collection is a collaboration of seven M.F.A. Fashion Design students and one M.F.A. Textile Design student and sponsored by the Italian Trade Commission (ITC). The ITC arranged for an instructor from the School of Fashion to visit Italian mills to select fabrics from Estethia – G.B. Conte (Marzotto Group), R. Allegri & F.Lli S.r.l, Seterie Argenti S.p.A., Lanificio Subalpino S.r.l, Teseo S.r.l. and Groupo Ratti S.p.A., as well as Italian trims from Cadica Group S.p.A. and Stile Universal S.r.l. Fabrics include Tropical Melange Wool, Liquid Satin Back Crepe, Tissue Linen, Fine Heathered Linen, Sheer Print Chiffon, Polished Nylon, Featherweight Voile, Summer Weight Wool/Silk, Fine Silk/Viscose Crepe Jersey, Organic Cotton Khadi Cloth and Sueded Microfibre Nylon. The eight students who collaborated on this women's wear collection are Ginnie Huang, Zenia Kim, Kate Y.K. Lee, Jessie Jie Liu, Iglika Vasileva Matthews, Tanja Milutinovic, Ilana Dora Siegelman and Cecilia Q. Xie.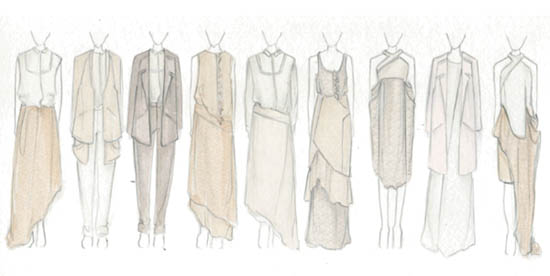 Meredith Acton
Meredith Acton was born and raised in Massachusetts. After completing her B.A. in Apparel Design and Retailing, she went on to intern at Michael Azu London, Hasbro, and the Boston Ballet, before pursing her M.F.A. in Fashion Design in the School of Fashion. Meredith was inspired by Lewis Hine's investigative photography of child laborers in the early 1900s. Meredith combined traditionally utilitarian fabrics such as cotton shirting with more refined fabrics including silk chiffon and organza. Hints of transparency highlight the collection, adding a subtle softness.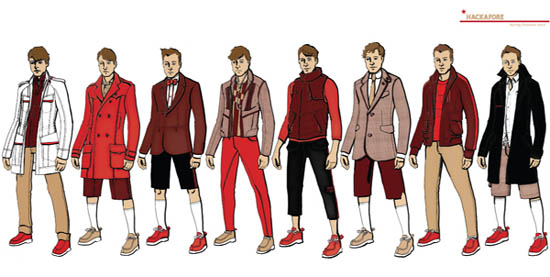 David Doerr
David Doerr was born in Fresno, California and grew up in San Diego. He previously attended the University of California, Los Angeles, graduating in 2006 with a B.A. in History. In 2007, he was awarded second place for men's wear design at the 27th Annual Golden Scissors Fashion Show. David pursued a M.F.A. in Men's Wear Design. His debut collection is based on the adventures of Soviet Cosmonauts. He created his garments using fabrics such as Ultrex and cotton wick-away piqué, which have the mutual ability to keep the wearer cool and protected from elemental extremes.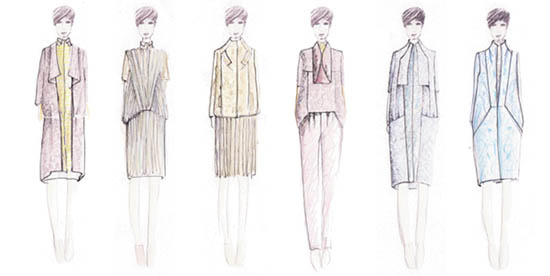 Dipti Irla
Dipti Irla was born and raised in Maharashtra, India. Before coming to the School of Fashion to pursue her M.F.A. in Fashion Design, she earned an undergraduate degree in Fashion Design from the National Institute of Fashion Technology in Gandhinagar and worked in Mumbai as a designer. Dipti's collection is made of brocade fabrics from vintage Indian Sarees, and was inspired by the influence of British culture on India during the colonial period.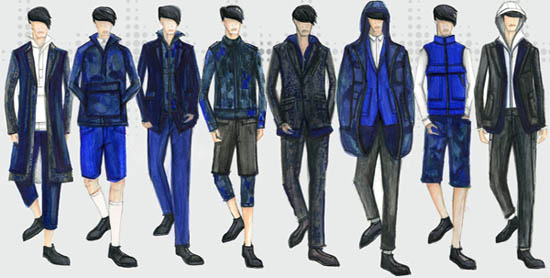 Lisa Nguyen
Lisa Nguyen, a Los Angeles, California native, earned her B.A. in Public Health at the University of California Berkeley, before switching career paths. Lisa pursued her M.F.A. in Men's Wear Design. She collaborated with Jen Chen, M.F.A. Textile Design, on a collection inspired by the idea of intergalactic combat wear, creating pieces that are multi-functional and have a protective element using a combination of GORE-TEX®, ballistic nylon, cotton, and wool.
Jen Chen
Jen Chen grew up in Fremont, California, attending nearby University of California, Berkeley and earning a dual degree in Architecture and Asian Studies. While pursuing her M.F.A. in Textile Design, she honed her skills as a Design Intern at Abercrombie & Fitch, and as a Textile Design Intern at Williams-Sonoma. She also participated in The Collaborative Print Project at Mercedes-Benz Fashion Week in 2010, and even designed a print for Azzedine Alaïa. She collaborated with Lisa Nguyen on a men's wear collection.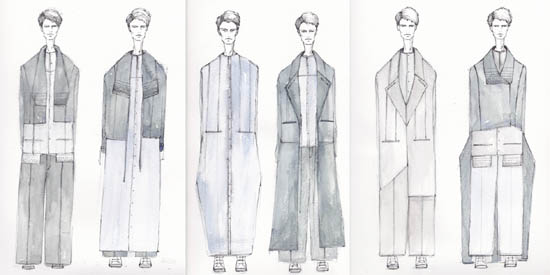 Juhyun Vivi Park
Juhyun Vivi Park is from Seoul, South Korea. Vivi was inspired by the gradients of Mark Rothko's paintings and the utilitarian fabrics used in traditional work wear for her men's wear collection. She had her linen fabrics stonewashed to achieve a worn aesthetic and added stitching details to the garments.
Sun Young Youn
Sun Young Youn received a B.F.A. in Textiles and Fine Knits from Seoul Women's University. She interned at SH Fabrics and Celine in South Korea, before pursuing her M.F.A. in Fashion Design. Her women's wear collection plays on the straight lines and geometric shapes of modern architecture. She juxtaposes beauty and function in the structure of her designs as well as in the fabrics, combining lace and vinyl.
Academy of Art University Spring 2012 Collections
Spring 2012 Mercedes-Benz Fashion Week at Lincoln Center
Friday, September 9th at 8:00 PM
For the fifth season, the show will be streamed live at: http://www.academyart.edu/fashionshow/