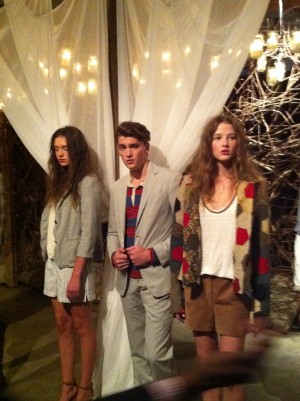 NEW YORK Sept 28, 2011 /FW/-up the southern tang, Billy Reid's Spring 2012 brought Laurel Canyon to New York. Down at Milk studios a live performance played tribute to the great American songwriters of the seventies. Guest enjoyed the local brew and not a single home-style detail was left behind.
It was the perfect setting for spring's mixture of plaid linens seersucker and patchwork details. The palate consisted of creams and kaki tones, washed denim blues and hints of red. Charming the array of southern layering was cream suiting through out both the Men and Women's collection.
Gent's were styled in tailored novelty shorts and layered button downs. Linen pants were worn rolled up to show off the variety of handmade penny loafers and canvas boots. Twill pants styled nicely with rugby shirts, dinner jackets and spring's double-breasted trench coat. Button downs carried into the women's collection with loosely fitting sheer pants and cropped blazers. Prairie skirts and halter-tops with ruffle details were worn with handmade espadrilles and sandals. Patchwork novelties cardigans layered over simple silk tanks. Together the collections were a well-tailored tribute to the Alabama roots of Billy Reid.
photos courtesy of Billy Reid