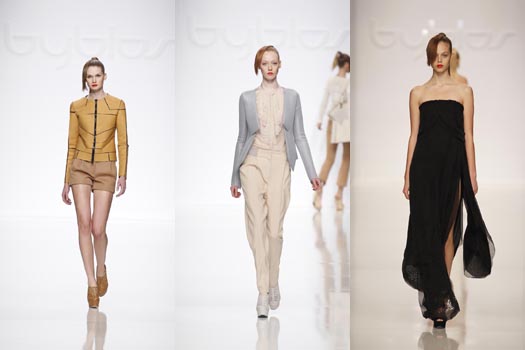 MILAN, Sep 25, 2011/ — Inspired by Isabella Blow, the Byblos Spring / Summer 2012 collection by Manuel Facchini was born of the twin soul of this eclectic and multifaceted, cold but romantic woman who the muse of fashion designers of the 1990s.
"Fashion overdoes things to make them more beautiful": a style combining the futuristic, strong, rigorous touch with a more intimate and delicate look, translated into the fabrics and the workmanship, into the volumes and proportions, into a play of strong contrasts. A collection expressing Isabella's two opposing souls.
The scabrous soul: cold, sometimes impetuous. Interpreted with origami shapes, by precise, geometric cuts that live in the outerwear with plays of patchwork; made in leather embellished with applications – without stitching – of plates obtained by carving, by inlays, by plays of three-dimensional thicknesses of material. To decorate, to defend.
The most intimate and concealed neo-romantic soul of Isabelle, that expresses itself through laser processes that recall lace. But cut coldly.
An antithesis to be found in the severe, solemn silhouette of the dresses, softened by flowing fabrics to shape the body, interrupting the unconventional character with strong finishes – by laser, with capes – and rigorous lasered-lace inlays. Antithesis in the tone-on-tone dresses which impose the lengths without being subjected to them.
In the trousers, with an always contrasting loose volume, which plays down the rigidity of the outerwear, with the application of knitted ribs which convey a sporty chic appeal. Contrasts in the details. Scuba (net) with a technical look, leather with a futuristic allure.
"I don't follow trends, I follow instincts": in the jacquard interpretation prints, placed organically on the item. Three-dimensional with futuristic-flavoured, many-petaled flowers, which rob the laces of their weave and interpret them in pulp style.
A contrast to be found in the chromatic dna of Byblos. A soft, feminine palette – from white to natural, warm-rope, almost mustard colour – dramatically broken by the strong black and by unexpected points of intense, fierce cobalt blue and purple.
A celebration where the very high heels, planted in the centre of the shoe, are almost a sculpture, a tribute to it.
Photos courtesy of Byblos
Milano Moda Donna Spring 2012