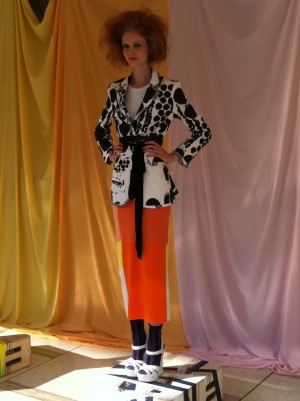 NEW YORK Sept 26,2011 /FW/-If one collection captured all of next seasons hottest trend's; it was that of Chris Benz Spring 2012. Print, layering, color, color, and more color! The presentation was a burst of fresh excitement! The young designer takes inspiration from Andy Warhol's superstars gone to Coney Island with a little splash of candy kids.
The fit was loose and slouchy but still very neat. Hemlines dropped on straight skirts and dresses. Cropped pencil pants featured a variety of bright prints and were worn with elongated blouses. Solid wide leg drawstrings were worn with easy to slip on tops and cropped printed blazers.  The accessory collaboration was on point! Models were rocking Alejandro Ingelmo's neon high top kicks, wedge sandals and watches. The modern take on vintage fashion was the perfect opportunity for chunky jewelry by The Woods and the shades of Selima Optique.
It takes a special kind of clever pull off a, modern lady-like  Andy Warhol mima.  Chris Benz did it and he did it well. This season will offer some of springs most sought after novelty pieces, dresses and a wardrobe of endless styling opportunity.