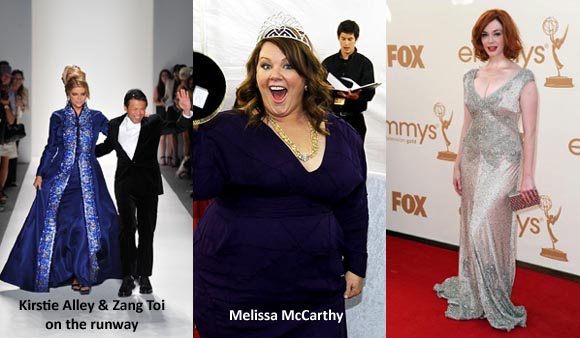 LONDON, Sep 28, 2011/ FW/ — From the catwalk to the red carpet, the plus size woman has taken center stage this September. And though this is not necessarily a shift on the current zeitgeist of "thin is beautiful" the emerging reception of "curvaceous women are alluring even sexy" definitely shows a change in our perception of beauty.
Beauty might be in the eye of the beholder but historically speaking, humankind has been very fickle in how it defines beauty. Case in point, "Aphrodite of Milos" better known as "Venus de Milo" which is believed to be the depiction of the goddess of love and beauty is a plus size!
Sculpted by Alexandros of Antioch sometime between 130 to 100 BC, the larger than life frame of 6 ft 8 inches (203 cm) when translated proportionally into life size measurements makes the goddess of beauty approximately 5 ft 4 inches, with a bust of 37 inches, waist is 26 inches and hips is 38 inches.
Present-day Venuses present a similar though largely modern depiction of how we view beauty.
On the catwalk, at the Zang Toi Spring 2012 show, plus size actress and Dancing with the Stars contestant Kirstie Alley wore the final exit – a jewel encrusted "One Thousand Nights and One" Imperial coat and a sapphire couture silk gazar strapless imperial gown.
"Kirstie [Alley] has been a friend of mine since the 1990s. So, when she approached me about being a catwalker for my Spring 2012 collection, I immediately designed the "One Thousand Nights and One" gown which of course the press has now dubbed as the 'Kirstie Alley' gown," Zang Toi told FashionWindows in an interview two days after the show.
Always pushing the envelope, Zang Toi was unafraid to put a plus size model on the catwalk believing that a well designed and tailored frock make a lot of difference in how we perceive the wearer. And with his magic scissors and impeccable tailoring, the New York-based designer made Kirstie Alley a fashionista star!
A week later, in Los Angeles, plus size actress Melissa McCarthy won the Emmy for Best Actress for a Comedy for her work on "Mike & Molly", a CBS sitcom about a couple who are struggling with their weight.
And the best of all, plus size actress Christina Hendricks of "Mad Men" fame continues to be a femme fatale in the eyes of the celebrity photographers and the very unforgiving and very fickle tabloid press.
With the rise of the plus size woman, it's not surprising that more and more e-commerce sites are dedicated to dressing them.