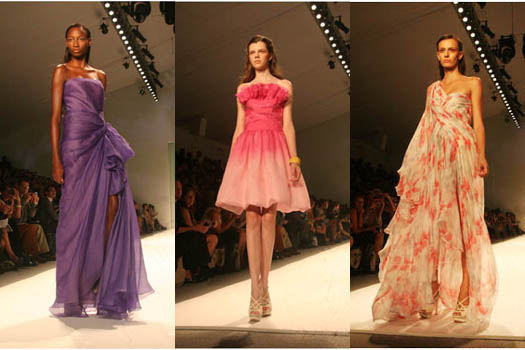 NEW YORK, Sep 8, 2011/ FW/ — Inspired by the tulip, Tadashi Shoji created tulip shaped skirts and dresses by rolling up the hem and using degradé shades of rainbow tints which by the way are the naturally occurring colors of the tulip.
Strapless gowns to one-shoulder ensembles of cocktail dresses and gowns sported original prints which were based on the tulip. Floral appliqué, lace and beading added to the sophistication of this beautiful collection that will surely find their way to a discerning woman's wardrobe.
And though this statement is already cliché in the fashion world, red carpet appearance for any Tadashi Shoji's gowns is not going to be a surprise. In fact, it is expected!
[MARI DAVIS]