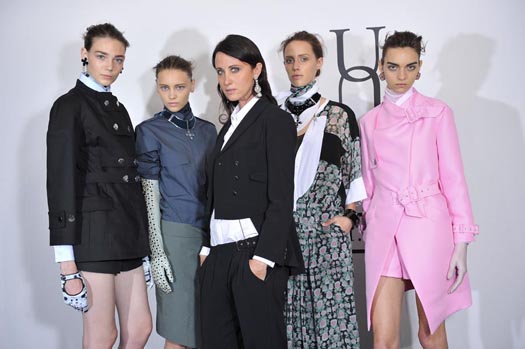 PARIS, Sep 29, 2011/ FW/ — There's a new name in the Paris fashion scene – UNIQUENESS, a new innovative brand by Alessandra Facchinetti who also marked her return to fashion with the launch of this label.
Born to this new era of social networking and mobile web, UNIQUENESS brings a new dimension in time and space when it comes to fashion. Reconfiguring the concept of style, there are no seasons or no rules.
Capturing an urban spirit, cutting across a wide spectrum of people, places, situations; UNIQUENESS is open to individual interpretation. It is also just a mere click away!
The collection presented in Paris today features Alessandra's chic sensibility. The inaugural collection is composed of Four color groups – green, white & black, pink, yellow – suggesting the passing of time through 24 different looks playing with multiple nuances.
It also has Floral Print Uniforms which redefine severe elegance through fresh chromatic sensations. Solid tones add a special depth to fabrics as "transversal" in the Uniqueness universe. All open to interpretation in a game beyond borders and seasons, for the world has changed. And along with it, so has the jacket – now in an all-year version.
In a world where time and space are suspended the waterproof cotton peacoat features fine tailoring; the mannish polyester stretch twill jacket comes (open) over shorts plus a belt in metal and velvet; the latest superlight nylon puffer parka has a high-tech appeal, a loose-fitting cut, army detailing but no hood.
Pants sport tucks, as well as optional contrasting waistband and asymmetric eco-fur patch, while the print "uniforms" will come both with metal and velvet bijoux and without. Classic chic begins a new life thanks to the second-skinsuit and the catchy floral pleated skirt/blouse combo.
These are clothes for a woman who knows how to have fun with patchworks, who finds a quiet quirkiness perfectly reassuring. Next on the lineup: psychedelic-botanical print gloves.
Uniqueness seizes the moment and puts it online at www.uniqueness.it. A work in progress display window showcases a timeless no-wait line of clothing: a continual flow of new products, sold everywhere 24/7 with immediate delivery.
The project is also available in major multi-brand stores and online at thecorner.com. Uniqueness finds inspiration in and comes to life on the Web.
With a website offering a constant glimpse of Alessandra's collection, her passions and ideas, the latest updates and tips from the Mood Board and the special initiatives of the Board of Uniqueness, a group of like-minded creative individuals who will come together to share their ideas and experiences. It's an online magazine that sells fashion while looking far beyond standard fashion horizons.