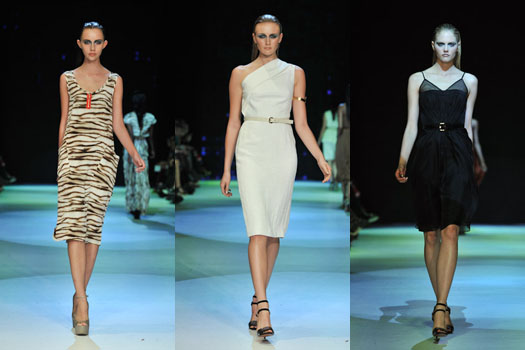 TORONTO, October 18, 2011- Known for designing for strong, confident women, Arthur Mendonça unveiled his spring/summer 2012 collection during Toronto's LG Fashion Week Beauty by L'Oréal Paris. Arthur launched his namesake collection in 2002. The Toronto-based label was greeted with immediate acclaim and enthusiasm on the Canadian fashion scene by media, retailers, stylists and consumers alike.
As said in the press release, this seasons' ensembles draw inspiration from Cleopatra, as embodied by Elizabeth Taylor in the iconic 1963 film. Unfortunately, the collection didn't succeed to embodied all the splendor of Mrs Taylor golden age, excepted for the models hevavy make up.
With the heavy silhouette, strong shoulders and belted waist, it was hard to see the subtility of Mendonça designs. We felt more in an 80's vibe, that in the Cleopatra era. The collection featured luxurious fabrics, like linen and silk, and with Taylor's Technicolour Cleopatra as the main inspiration, this season's palette included a mix of colours, earth tones and shades of white that gave, again, a mixed and confusing result.
Mrs Taylor had for sure this bold and unforgettable , yet inemitable style, but more of that, she had this little something called … personnality.
[MARIE-CHARLES]
Photos by George Pimentel, courteys of LG Fashion Week