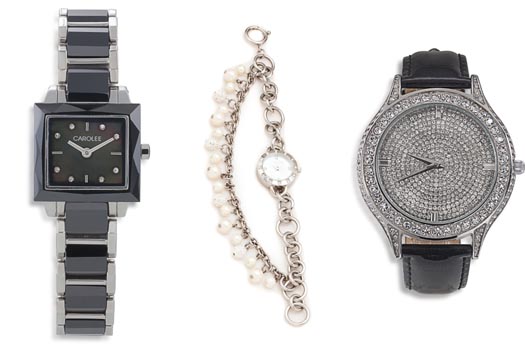 NEW YORK, Oct 19, 2011/ – It's about time! CAROLEE is launching a watch collection for this Holiday 2011 season.
A fashionista favorite, CAROLEE has the pulse of the fashion set on its fingers and thus, responding to an ongoing trend and rising consumer demand for ladies' fashion watches, the famed fashion jewelry company is introducing a beautifully designed collection of timepieces that are made with the same attention to detail and quality as its jewelry.
The watch collection fuses functionality and elegance, a representation of CAROLEE's prowess in the art of jewelry design. The pieces are designed with impeccable style and innovative materials creating watches that are modern and versatile, suitable for any lifestyle.
These jewelry-inspired watches are made with the finest materials including stainless steel with mother of pearl and crystal dials and feature safety clasps and scratch-resistant mineral glass, ensuring the ultimate in accuracy and reliability. The collection is comprised of five unique design categories:
Pearl – CAROLEE is known for its extensive line of pearls, thus it was only natural to incorporate the timeless material in its watches. The same quality and colors of pearls are matched in the jewelry collections – unique single and double row designs, some with charms and pave accents.
Charms – The whimsical charms come from CAROLEE's own heritage. Pave hearts, miniature handbags and teddy bears adorn the watch charm bracelets and necklaces.
Special Occasion / Bridal – Faceted crystal cases, baguette stones and pave bezels are featured in the special occasion and bridal collection. Sleek metallic and patent bands shine while soft pastel satin bands offer a feminine touch.
Metals / Bracelets – Link chains, heart bracelets and continuous mesh ring bands show off mother of pearl dials and pave heart cases in gold and silvertone metals.
Sport / Ceramic – One of the season's hottest trends is the cool color that ceramic brings to watch designs. The sport watches feature ceramic links in crisp white, rich black and hematite in chic square-shaped cases.
The CAROLEE timepieces have an MSR of $125 to $350. The collection will make its debut at select Bloomingdale's, Macy's, and Lord & Taylor stores, Macys.com, Carolee.com, The Bay in Toronto, as well as International retail locations.
Looking for unisex timepieces? Get them at ice watches uk. A new craze that is destined to stay, ice watches are watch collectors must-have.