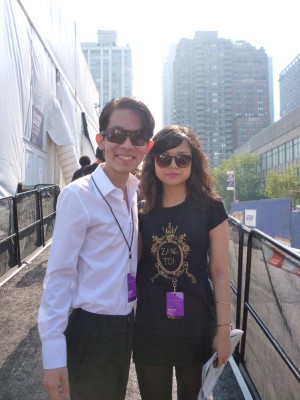 By the time the cab pulled up at the Lincoln Center for the Performing Arts in New York's Upper West Side, I could feel the butterflies in my stomach. I never imagined myself stepping foot in the white tents during Mercedes-Benz Fashion Week. It was like a scene out of a magazine. I stood there and basked in that moment.
It was chaotic and exciting both at front-of-house and backstage. Gift bags were assembled and placed on every seat, the Run of Show was distributed and the hair and makeup team were under pressure to make every model perfect. The backstage was a mess of sponsor representatives, camera crews, TV hosts conducting interviews and bloggers frantically taking pictures. We were engulfed in this craziness from the moment we took over the venue a mere two hours ago.
Twenty minutes before the show starts, and my work backstage was done. Guests filtered into The Studio. I was at the front-of-house checking in guests and the turnout was overwhelming. I recognized a number of familiar faces in the crowd. Robert Verdi, Miss J Alexander and Stephen Baldwin were among the attendees.
No sooner, it was show time. The lights were dimmed. There was a hushed silence as the crowd settled and Sting's "Desert Rose" started playing. One by one, Zang's thirty-three-piece collection was unleashed on the runway. A thunderous applause erupted when Kirstie Alley walked down the runway in the "One Thousand Nights and One Night" imperial coat.
I was teary-eyed when the models did their final walk. The audience was on their feet when Kirstie and Zang came out to take their bows. The standing ovation lasted 10 minutes and Zang deserved every minute of it. It was a good showing and I was so proud of our team effort!
***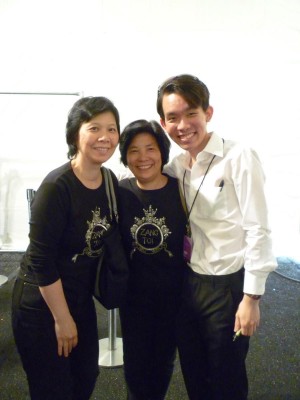 My brief summer encounter with this multi-billion dollar fashion industry has truly been insightful. There are marked contrasts within this world. Where there is glitz and glamour, there is also sweat and tears. There are people who are genuine and accommodating, but there are more who are pretentious and intimidating. The only way one can be successful in this industry is through sheer determination, hard work and perseverance.
It was a privilege to be thrown in at the deep end at House of Toi. To be able to work closely with Zang Toi was a dream come true for me. He was not only down-to-earth and approachable, he was also infinitely energizing, invigorating and inspiring.
I realize that there will be sacrifices to make if I am to make it in this industry, but I walk away from this summer internship knowing that I am IN!
[STEVEN ONG]
[Part 1] [Part 2] [Part 3] [Part 4] [Part 5]
Steven Ong is an advertising major senior at Michigan State University. He is the writer of Little Brown Bag, www.lilbrownbag.blogspot.com. You can also follow him on Twitter @Steven_Zuhao