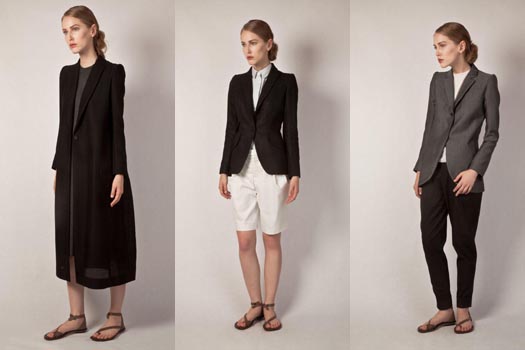 PARIS, Oct 3, 2011/ — Unveiling his second collection in Paris, designer Gianfranco Scotti had found inspiration in the works of photographers Diane Arbus and Sally Mann for Spring / Summer 2012.
Translating the photographers' body of work into wearable and highly covetable apparel, Gianfranco Scotti celebrated feminine beauty – its strength and its fragility – for his eponymous line.
An accomplished tailor, Gianfranco Scotti continues to experiment as he uses almost-forgotten techniques, utilizing them in unexpected ways.
Jackets, skirts and pants, in fabrics such as lighter-than-cotton wools, translucent kid mohair / wool blends, brushed cotton twills, cotton / silk blends and super 150's wools, are studied and crafted with flattering graphic lines and methodical construction to create fluid architecture. The result – highly constructed pieces that appear light and effortless.
If his debut collection put him on the name to watch in the Paris fashion scene, Gianfranco Scotti's second collection lays the brand's foundation of impeccable tailoring and use of supple fabrics for silhouettes that are timeless, modern and luxurious