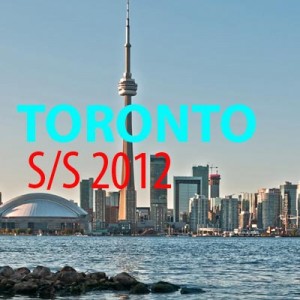 TORONTO, OCTOBER 17th, 2011- Last but not least, Toronto fashion week, or if you prefer LG Fashion week Beauty by L'Oréal Paris, starts today. Presenting an impressive list of Canada's most establish and most promising fashion talents including Pink Tartan, Denis Gagnon and Marie Sant Pierre, this schedule has never seemed so exciting! Under the theme CanadaCool, this Spring 2012 calendar is not going to stay under the radar. With reknown labels- seeretailers, like Joe Fresh and Attitute Jay Manuel by Sears also showcasing their collections, Toronto will definitely portrayed a diferent horizon of canadian fashion.
The runway room, with seating for 700+ and 90-foot catwalk, is the perfect setting for seasoned fashion houses to showcase their newest collections. Over the course of five-day event, this grand stage will host numerous shows providing a platform for many of the week's'most anticipated designers, like Juma and VAWK.
The Studio provides a place for designers to express their creativity, present their collections in a non-traditional format and custom fit their presentations to their own artistic vision. Presenting in the studio will be Judith & Charles, Klaxon and Juma, among others. With a maximum capacity of 350 and a flexible layout, guests can expect to see collections in the Studio in a more intimate setting.
The Spring 2012 roster is comprised of familiar friend and fresh faces; we note a massive presence of Montreal designers, who had already shown their collection about a month ago during Sensation Mode fashion week event… Should we see it as a warning? Even though, it's more that clear that the rivalry for the fashion capital of Canada is still on.
We can't wait to discover what Toronto has to offer.
[MARIE-CHARLES]