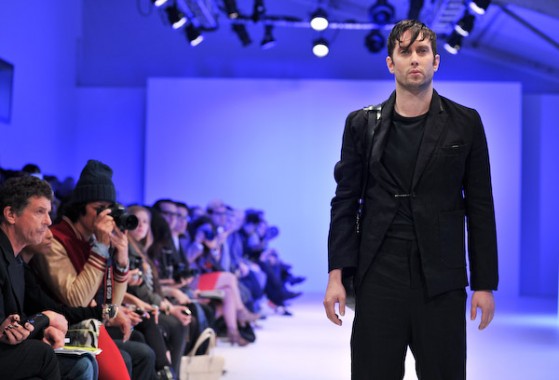 TORONTO, OCTOBER 21, 2011- Ken Chow, a graduated student from F.I.T.s menswear program, started his label Krane in 2004. This Toronto native entered the mens market with a reinterpretation of old classics and vi tage uniforms.
This season, thrue to his youthful vision of menswear, he presented a very strong and raw collection, in which we could definetaly felt his industrial designs influences. In a mostly black collection, Krane collection featured great blazers, vintage uniform-style shirts, skinny pants, all made of solid and matte fabrics like leather or waxed cotton, giving the collection this industrial era vibe. As for details, every garments seemed designed in a very practical way, with snap buttons, comfortable fits and coats that can be worn like bags.
The designer also created a small collection of one-of-a-kind mens accessoires featuring modern suspenders/harnesses. Actually, it was really interesting to see a designer who dares to explore and bring new things to the audience. We like the ingeniosity of Ken Chow.
[MARIE-CHARLES]