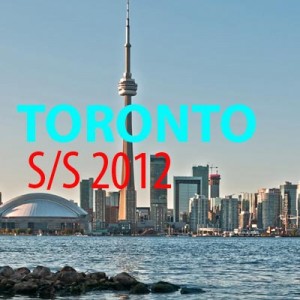 TORONTO, OCTOBER 21th, 2011- Known for his use of upholstery and unconventional design around the female silhouette Adrian Wu, a yound man just turned designer, presented his collection as the opening show of the last day of Toronto Fashion week.
The shape of the silhouettes were surprising, and the experimentation seemed, at first, interesting. Giant, yet fragile models walked the runway in their uncomfortable new bodies. Inspired by a strange esthetic, Wu played with volume and fabrics – lots of it. Unfortunately, the fabrics just seemed pin tucked to the back of some dresses, with covered-fabrics lanterns creating the volume. Lanterns, really. Every look seemed handcraft, with raw finitions and no poetic taughts. It looked like the first steps of an artist experimentation, trying to understand volumes, and see how he could recreate this volume and shapes.
As a result, we just saw how poor his technique and creativity were. It is hard to believe he presented it as a final collection. He definately stood up from the crowd, but not for the good reasons.
[MARIE-CHARLES]