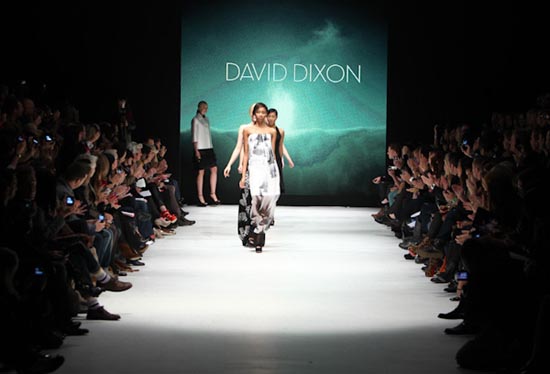 TORONTO, OCTOBER 23, 2011- One of the most awaited collection of the week, David Dixon presented his Spring 2012 collection in front of an impatient and excited audience. Opening with a statuesque black beauty wearing a pale yellow gown, the designer had the big challenge to empower the eclectic style of Malcom Macleren musical genre, his inspiration for the season.
As the musician, Dixon used a mixture of classical with modern shapes, strict and soft fabrics to redefine his own kitsch aesthetic. It was all about contrast and unusual alliances. In hard to miss garments, the models walked the runway in a palette of yellow, black and white, wearing bold jewelries and stunning creations. The clothes were made in luxurious fabrics like silk organza or metallic paisley, most of the time embroidered or embellished with silk appliqués flowers. In a second part of the show, Dixon presented his own version of Macleren's single Madame Butterfly, with gowns and butterfly printed fabrics.
Mostly evening wear, the woman wearing Dixon's designs is definitely making a statement. We liked how risky Dixon went this season, but would have like to see more diversity in the whole collection.
[MARIE-CHARLES]
Photos by George Pimentel, courtesy of LG Fashion Week