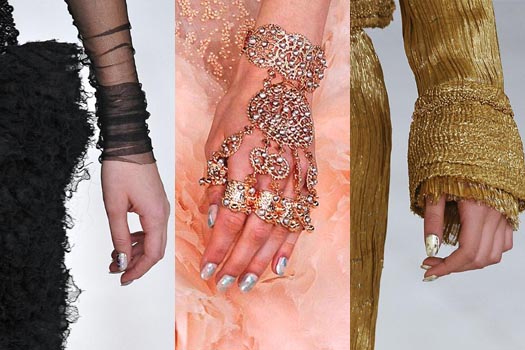 PARIS, Oct 13, 2011/ — For the fourth season in a row, Minx had created unique nail designs using the reference given by fashion house's design team to match the Alexander McQueen collection.
For Spring/Summer 2012 presented in Paris last October 4th, the inspiration of the Alexander McQueen collection were mother of pearl, shells, water and sea foam, which was reflected on the Minx nails worn by the models on the runway.
Based on the brief, Marian and Minx co-founder Janice Jordan created a series of designs using an ivory base or a delicate pink base, layered with an organic swirl design in a MinxLusion, Matte Silver, or Matte Gold tracing. The organic swirls give the impression of sea foam and gentle movement.
In addition, a unique Minx template was created in a bronze color, overlaid with swirls of gold to complement one particular dress from the collection.
Minx nails and UK nail stylist Marian Newman providing the nail fashion for the show, for the fourth season in a row.
Marian's team included nail stylists Adam Slee, Kimberley Casey and Naja, while Minx co-founders Janice Jordan and Dawn Lynch-Goodwin also assisted in applying Minx to the 33 models taking part in the show.
"It was such an honor to be part of the Alexander McQueen show," said Marian. "The level of craftsmanship and the brief of the collection pushed me to explore new techniques and designs. I really enjoy the different challenges that come with each collection and always look forward to the show, as it is truly a unique experience."
Photos by Becky Maynes