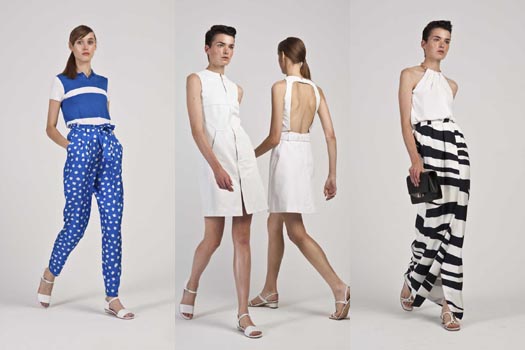 NEW YORK, Oct 13, 2011/ — Aptly entitled, "The Fast Look," the Raoul Spring 2012 collection sprints to spring and summer with its racer-striped knits and graphic color-block dresses in white, vanilla, citron, summer green cobalt and deep blue.
And just to keep it scorching, Raoul also threw in dusty rose, sesame, pumpkin and neon-hot pink/
Tailoring is structured and streamlined, stripped of superfluous detailing, arriving at the essential forms. There is a long white sleeveless and button-less coat in linen canvas, while a long sleeved version snaps shut with 2 easy locks. Zip-through leather and canvas coat- dresses make their statement.
A cropped, double-breasted jacket with or without sleeves has the perfect stand away collar. The simplest of hooded jackets is feather light. A butter leather handkerchief cape offers the perfect cover. A canvas tunic is attached to its shorts, while an A – line skirt has a 'zip-on-or-off' leather racer tank.
The essential shorts are in silk, perforated leather or printed pique. Skirts and dresses race high above the knee, graze the lower shins and eventually the ankles in fluid silk Georgette and billowing Chiffon, sometimes suspended by a leather choker or a sturdy metal necklace.