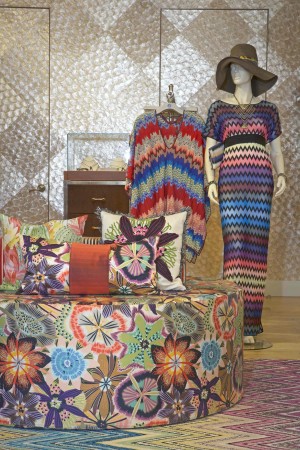 LOS ANGELES, Oct 18, 2011/ — Sold out at Target for its one-off collaboration with the giant retailer, Missoni continues its popularity on a wide spectrum as it caters to its original market – the luxury clients.
Partnering with leading luxury resort retailer Seaside Luxue, Missoni will now be sold at Seaside exclusive boutiques in Hawaii and thus making the Italian fashion house's Missoni Home Décor and ready-to-wear apparel lines to an elite clientele.
"Missoni Home is thrilled to work with Seaside Luxe on the Missoni installations at its Hawaii properties," said Christopher Philips, Brand Manager America at Missoni Home.
"Bringing together the best of premier forward-thinking luxury retail, exclusive luxury resort location and service, and a world-renowned Italian artisan creative powerhouse, these projects offer us the perfect stage to give our discerning clients what they have come to expect, a memorable and unique experience."
"Missoni is probably one of the hottest designers of our time and its connection with the fashion-forward customer who indulges in a chic resort lifestyle couldn't be a more perfect fit for Seaside Luxe," said Lee Ann Sauter, CEO and Founder of Seaside Luxe.
As part of the collaboration, beginning mid-November 2011 through January 2012, the Four Seasons Resort Maui at Wailea will feature two Missoni-inspired cabanas at its Serenity Pool, while a Missoni-inspired lounge will be on display outside the resort's 22 Knots boutique. The popular Missoni décor, recognized by its colorful, distinctive zigzag pattern will be on display at key points within the resort property to provide guests a sneak preview of eye-catching Missoni luxury goods while enjoying their relaxing stay.
Additionally, a Missoni Pop-Up shop will debut at Seaside Luxe's flagship store, the Luxe boutique at the Four Seasons Resort Hualalai. The boutique will display a dedicated Missoni installation featuring beautiful Missoni home fabric on its walls, a lounge area with furniture outfitted in Missoni fabrics, pillows, throws and rugs, in all shades of vibrant, eye-popping colors for guests and fans of the luxury brand to soak up and savor as part of their unique shopping experience. The shop will feature the full collection of new Missoni apparel, footwear, swim and home goods.
The Missoni Home Home Décor and ready-to-wear apparel lines featured at Seaside Luxe will also be available for purchase online at buy@seasideluxe.com.