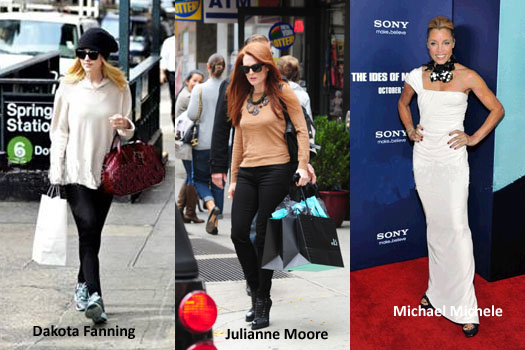 NEW YORK, Oct 5, 2011/ — Earlier today, Actress Julianne Moore was spotted hailing a cab after shopping uptown at Edit New York. With Fall just around the corner, the West Village beloved actress made a trek uptown to get some of the season's best fall essentials.
Julianne left the store hands full with bags and wearing goodies including KBL sunglasses, 2 pairs of Isabel Marant booties in both black and brown and a Proenza Schouler bag! www.editnewyork.com
Last Monday, Oct 5th, Dakota Fanning was spotted wearing a Marc Jacobs FW11 Collection handbag 'Beautiful People' – Alana (in Bordeaux Grainy Patent Leather) while out in New York City.
At the premiere of "The Ides of March", actress Michael Michele chose to wear a one-shoulder figure hugging gown from the Donna Karan Resort collection.
[MARI DAVIS]