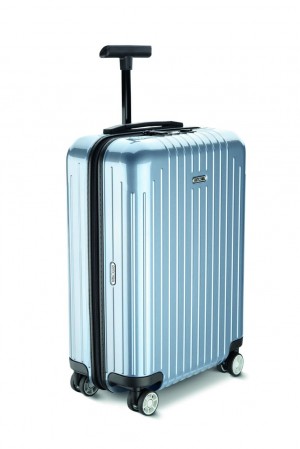 DALLAS, Oct 17, 2011 / FW/ — The demand for extremely light luggage is continuing to grow and with the Salsa Air Ultralight RIMOWA is providing the perfect solution within in the cabin luggage segment.
Light, lighter, light as a feather: the Salsa Air Ultralight! Following the Salsa Air -the lightest Salsa ever -RIMOWA is now launching the super-light version of the Salsa Air Cabin Multiwheel®.
Like every case in the Salsa Air series, this one also travels on the RIMOWA Multiwheel® system.
Ergonomic handles ensure comfortable transport. The inner lining is as light and robust as parachute silk. The inset combination lock with an ABUS TSA cylinder, which was developed and is manufactured in Europe, can be opened and closed again without damage during security checks.
The new Salsa Air Ultralight is available in Ultra Violet, Inca Gold, Aquamarine, Navy Blue and Cognac.
Weight: only 4.2 lbs-Due to the manufacturing process, weight deviations of up to 5% (+/-) can occur. Travelling with RIMOWA is now lighter than ever with the Salsa Air Cabin Multiwheel® Ultralight!