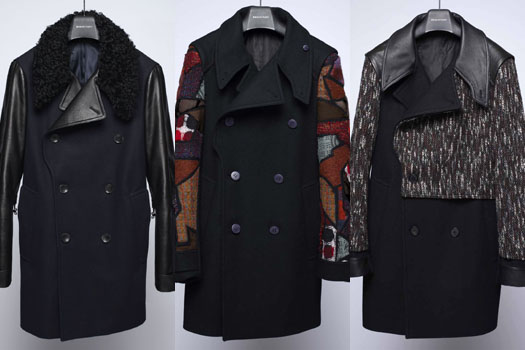 PARIS, Oct 17, 2011/ — From 10 October to 6 November 2011, Wooyoungmi and Selfridges London together celebrate the creativity of the capital city by joining forces with five young Londoners, each making waves in their respective field.
Creative collaborators involved in this project are Jordan Askill, Gary Card, David Hellqvist, Steve Salter and Reece Crisp.
Being held under the banner "My Coat, My Gift" project, Wooyoungmi and Selfridges are supporting 5 of London's best young creative talents with this event.
Collaborators had the opportunity to re-imagine the classic Wooyoungmi coat 'No. 51', an item that has become synonymous with the Wooyoungmi brand. The result of this can be seen in a special pop-up event on Selfridges men's contemporary on 1.
In addition to this, 10% of the sales of the coat 'No.51' made in the pop-up space will be donated to Art Against Knives, a charity using creativity to tackle the problem of knife crime amongst London's youth. The 'No.51' coats will retail for a special price of £650 at the Selfridges Pop-up.
Madame Woo, CEO, "The coat No. 51 has become a signature piece for me over the years. So to see a new take on it by these young talents is really fun for me. And to be able to support a worthwhile and creative project as Art Against Knives is an added bonus".
There will be an opportunity to own one of these unique Wooyoungmi Collaborator coats with a live auction running on the Wooyoungmi twitter space. 100% of the proceeds made via this auction will be donated to the charity Art Against Knives.
The auction will run from midday November 1st, closing at midnight November 6th. To tweet use @ woo_youngmi @ reececrisp / wooyoungmi 'amount bid'.
For further information please go to www.wooyoungmi.com