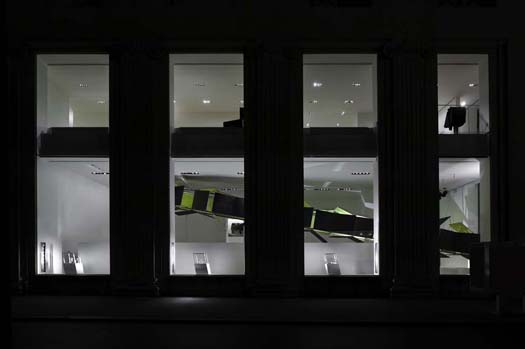 NEW YORK, Nov 23, 2011/ FW/ — In New York, the unveiling of the holiday store windows is always highly anticipated. And Calvin Klein Collection Madison Avenue location more than lived up to expectations with its "Black Beacon" store window designed and executed by British artist Nathaniel Rackowe.
Exploring substance, form and light, "Black Beacon" is a sculpture that stretches 60 feet in length and weighs one metric ton (1000kg), making it the largest sculpture Mr. Rackowe has undertaken.
The sculpture – which took months to fabricate in his London studio before shipping it to New York City to reassemble — consists of a massive steel frame suspended from only three points in the ceiling above the store's pristine main floor.
Honeycomb card panels, painted with viscose black bitumen on the outside and lime green on the inside, are attached along the external sides. Each of the panels are tilted open at different angles to reveal a single powerful arc of light traveling back and forth, across the entire length of the considerable structure.
As the beam passes through the openings between the linear rail of panels, streams of light spill out and spread across the walls of the space.
"Black Beacon is my largest and most ambitious artwork to date," said Mr. Rackowe. "Drawing from the cities and urban environments that I move through each day, I created this immersive work as a reflection of those experiences and a study in finding transcendental beauty in the most unforgiving of surroundings."
Inspired by urban environments, Mr. Rackowe's aim is to capture and distill some of the unexpected beauty that he finds in the hard landscape of the city.
Hung at a slight angle, an amazing view of "Black Beacon" is afforded from outside the space on Madison Avenue. From this vantage, it is possible to look inside the full length of the sculpture and see the light bulb as it slowly tracks towards the viewer.
The impressive steel sculpture and windows will remain on view through January 3, 2012 at the Calvin Klein Collection flagship store located at 654 Madison Avenue in New York City. Tel: (212) 292-9000
[MARI DAVIS]
Photos by © 2011 James Lattanzio