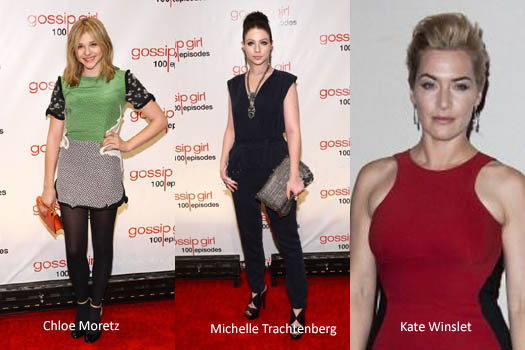 DALLAS, Nov 29, 2011/ — What does Chloe Moretz, Kate Winslet, Michelle Trachtenberg, Kate Hudson, Charlize Theron have in common? They all love Stella McCartney!
During the Gossip Girl 100th Episode celebration at New York City's Cipriani Wall Street on Saturday November 19th, Chloe Moretz and Michelle Trachtenberg both favored Stella McCartney.
Chloe Moretz arrived sporting Stella McCartney Summer 2012 look 28, orange faux leather embossed clutch and Winter 2011 black and nude faux patent leather mary janes
Michelle Trachtenberg on the other hand (no pun intended) was carrying a Stella McCartney Winter 2011 Silver Metalic Boucle Falabella Clutch.
Speaking of Michelle Trachtenberg, the actress was seen on November 14, 2011 carrying a Stella McCartney Winter 2011 Silver Metalic Boucle Falabella Clutch at the Labyrinth Theater Company's celebrity charades at the Highline Ballroom in New York City.
Still in New York, Academy Award winning actress Charlize Theron liked look 30 coat from the Stella McCartney Winter 2011 collection that she was seen wearing it three different times.
at IFP's 21st annual Gotham Independent Film awards at Cipriani, Wall Street on November 28, 2011,
at the Cinema Society & Dior Beauty screening of 'Young Adult' at the Tribeca Grand Screening Room on November 18, 2011
at the Press Conference for Young Adult at the Ritz Carlton Central Park South on November 18, 2011 in New York City.
Meanwhile, on the other side of the Atlantic, Academy-award winning actress Kate Winslet was spotting wearing a Stella McCartney Summer 2012 Red Octavia Stretch Dress at the "Carnage" Paris premiere at Cinema Gaumont Marignan on November 20, 2011 in Paris, France.
At the British Fashion Awards on November 28th, Kate Hudson wore a long black one shoulder gown with cut out embroidery from the Summer 2012.
The designer Stella McCartney wore one of her creations when she accepted her "Red Carpet Award", look 19 jumpsuit from the Summer 2012 collection.
[MARI DAVIS]