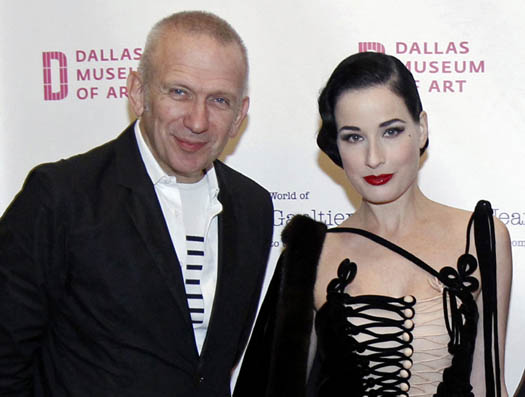 DALLAS, Nov 10, 2011/ FW/ — Last night, designer Jean Paul Gaultier was feted at the Dallas Museum of Art for the opening of the designer's namesake exhibition, "The Fashion World of Jean Paul Gaultier: From the Sidewalk to the Catwalk".
In this invitation-only event for DMA's Donor Circle members where tickets cost $2,000 each, Dallasites flocked to the museum with most of them wearing Jean Paul Gaultier creations.
"It's the most fun we've had here at the Art District in years," commented Gail Sachson, Vice Chair of the Dallas Cultural Affairs Commission.
A city best known as a business hub and technology center, Dallas also plays an important for fashion as a town that just love to dress up! Very fashion conscious, Dallasites in general can rattle off designer labels without missing a beat.
Hence, the arrival of designer Jean Paul Gaultier to celebrate his namesake exhibition did not go unnoticed.
"Specialty stores have been doing brisk business for Jean Paul Gaultier clothes since the DMA announced the exhibition," observed Gail Sachson. "Even vintage stores were visited by Gaultier fans just to make sure that they will be wearing one of his creations for the opening."
And as always, Jean Paul Gaultier did not disappoint. The designer arrived with Dita von Teese wearing Jean Paul Gaultier for the reception being held in his honor.
The Fashion World of Jean Paul Gaultier: From the Sidewalk to the Catwalk
November 13, 2011 – February 12, 2012
Dallas Museum of Art
[MARI DAVIS]
Photo by Mike Stone