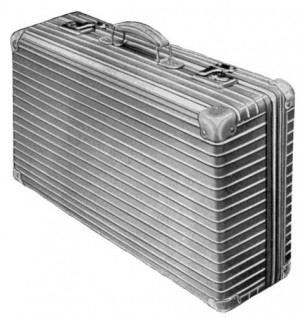 NEW YORK, Nov 29, 2011/ — RIMOWA, the renowned German luxury luggage-maker announced that the United States Patent and Trademark Office has awarded the trademark registration for its distinctive and iconic grooves used on their polycarbonate, aluminum and hybrid cases.
RIMOWA, known since the fifties as "the luggage with the grooves", has been manufacturing luggage and travel cases since the late 1800s. Headquartered out of Cologne Germany and 3rd Generation family-owned, RIMOWA has continued to use the iconic grooves as a distinctive marking for their luggage, setting them apart from the rest.
"Our grooves are our heritage" says Carsten Kulcke, Executive Vice President of RIMOWA North America Inc. "Since the 1950s, our cases have been recognizable because of them. It is important that we maintain that heritage that has made us who we are today" he added.
RIMOWA has long been known for designing highly durable and innovative travel and business cases. Manufactured in their own high-tech facilities in Europe and North America and assembled by their own employees, RIMOWA has long stood for quality and innovation.
"People recognize our cases by the grooves and immediately know they are getting a superior case" mentioned Mr. Kulcke. "To be officially recognized as a trademark only further enforces the fact that our grooves are the never-changing seal of quality that has been our heritage for so many years."
As trademark infringement remains an ongoing industry issue, RIMOWA continues to remind consumers that the use of grooves on other cases will not be tolerated. RIMOWA aggressively protects its trademarks globally though its work with retail partners and trade associations as well as customs authorities and through the courts. "Protecting our customers from copycats is extremely important to us" mentioned Carsten. "Our loyal customers need to know that by buying 'the luggage with the grooves' means they are buying into quality and innovation".
Founded in 1898 by Paul Morszeck in Cologne Germany, RIMOWA is the world's premier manufacturer of ultra-lightweight yet extremely durable luggage. Today Dieter Morszeck leads the company into its 3rd generation building the highest quality aluminum and polycarbonate luggage throughout the world in the most advanced manufacturing facilities in the industry. The original principals of its founder still hold true today: Superior materials and perfect craftsmanship have made RIMOWA what it is today – A brand for people who are at home en route.
Available at select fine retailers worldwide including RIMOWA flagship boutiques in Beverly Hills, Honolulu and Las Vegas.