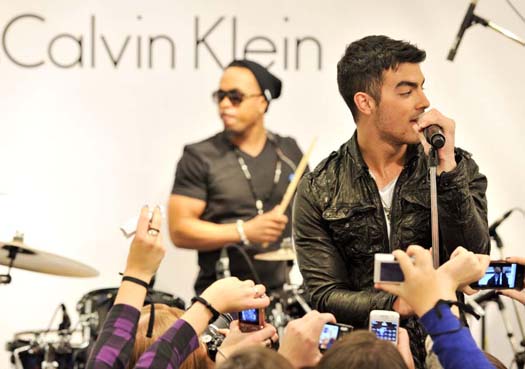 NEW YORK & TORONTO, Dec 4, 2011/ — For the grand opening of the Calvin Klein branded lifestyle retail store at Fairview Mall in Toronto Thursday night, shoppers received a special treat with a mini concert from Joe Jonas.
Jonas, who wore a Calvin Klein black leather moto jacket, a white v neck t shirt and black Calvin Klein Jeans, exclusively performed select songs from his first solo album, FastLife, for hundreds of fans at a special event.
Calvin Klein's Global Creative Director, Kevin Carrigan, and Calvin Klein, Inc.'s President & CEO, Tom Murry, were also on hand to celebrate the grand opening with Jonas.
The new Calvin Klein store spans over 6,100 square feet, and offers a full range of men's and women's better apparel, jeanswear, underwear and accessories, including bags and small leather goods, footwear, eyewear and fragrance. The men's and women's sportswear and jeanswear offerings are all designed under the direction of Mr. Carrigan.
The store interior follows the new concept design for Calvin Klein stores. The unique spaces are multi-dimensional and incorporate sleek materials with rich, tactile finishes and black and white coloration throughout, in keeping with the brands' over-arching aesthetic.
In addition to the new store at Fairview Mall, and the stores that opened recently at Marchè Central in Montreal and at Heartland Town Centre in Ontario, the company plans to open an additional freestanding Calvin Klein retail location in Canada in February 2012 at The Shops at Morgan Crossing in British Columbia. The store is the third Calvin Klein retail lifestyle location to open in Canada this year, with a total of forty stores planned to be opened in the next five years.
Calvin Klein, Fairview Mall, 1800 Sheppard Avenue East, Toronto, Ontario M2J 5A7
Photos by 2011 © George Pimentel