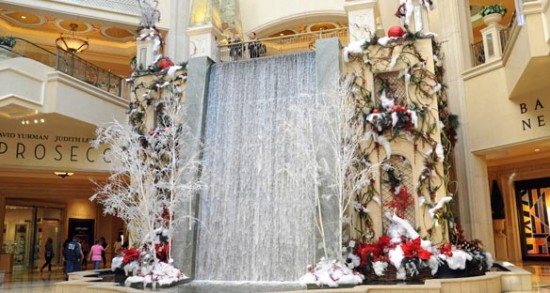 LAS VEGAS, Dec 8, 2011/ FW/ — Las Vegas is a lit the whole year round, but for the holiday season the City of Neon Lights dazzles with festive creations and holiday cheer as it transforms itself into a winter wonderland.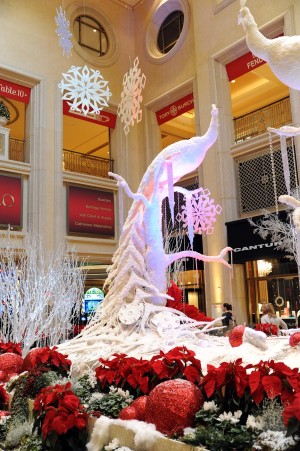 WINTER IN VENICE at The Venetian and The Palazzo
This unique celebration of the winter season includes an enchanting ice skating rink above The Venetian's picturesque outdoor Grand Canal, strolling candy cane stilt walkers, puppets, jugglers and magicians.
Throughout the 49-day celebration, guests will enjoy the finest holiday touches including warm apple cider and a seasonal Winter in Venice cocktail menu, including holiday-inspired spiced cocktails will be available throughout the resort lounges.
Winter in Venice experience runs from Nov. 21 to Jan. 8.
WINTER EXHIBIT at graces the Bellagio Conservatory & Botanical Gardens
A spectacular display, rich in nostalgia and tradition, once again graces the Bellagio Conservatory & Botanical Gardens. This four-garden winter wonderland display is complete with musical sounds and seasonal coloring.
The centerpiece of the winter exhibit is a Shasta Fir tree standing at 42-feet tall and illuminated with more than 1,800 ornaments and 13,500, white lights.
Visitors will be in awe over the grand toy soldiers, festive five-car train, thousands of bright-red poinsettias, and a group of five animated penguins that will ice skate on a patch of arctic terrain among a life-like family of 34 adult and baby penguins.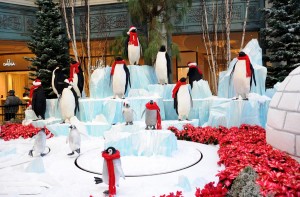 On view through Jan. 2, 2012, the winter exhibit within Bellagio's Conservatory & Botanical Gardens is complimentary to the public and open seven days a week, 24 hours a day.
SANTA at Mandalay Bay
At Mandalay Bay, Santa is making his list and checking it twice, finding naughty sharks, a rare Komodo Dragon and piranha in his sight. From 10 a.m. to 4 p.m. December 21 through December 24, children can share their last-minute wishes with the traditional Santa in the aquarium's shipwreck exhibit.
With each paid admission, children 12 and under will receive a complimentary candy cane and a photograph with Santa to remember this unique holiday experience. Jolly St. Nick will have a little help again this year from a rather large and toothy holiday helper – Santa Jaws.
Throughout the day, Santa Jaws will happily "swim" by to join the kiddies for a photo. Shark Reef Aquarium admission is $18 for adults and $12 for children; kids four and under are free.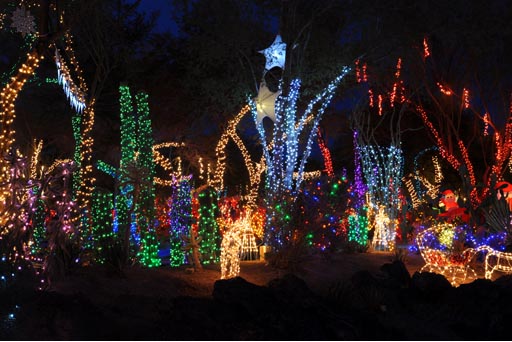 CHOCOLATE WONDERLAND at Ethel M Chocolate Factory
For 18 years now, Ethel M Chocolate Factory has transformed its three-acre Botanical Cactus Garden into a Chocolate Wonderland. This unique tradition brings thousands of sparkling lights, and a 3D display of old St. Nick virtually comes alive.
Take a stroll on the sparkling cacti pathway and enjoy the sounds of local choirs while taking in the sights and smells of this wondrous spectacular. Visitors are invited to wander while taking in the sights, smells and sounds of the holiday season from 5 p.m. to 10 p.m., seven days a week, excluding Christmas Day. Admission to the garden is free and on display until Jan. 1.
MYSTIC FALLS LASER LIGHT and WATER SHOW
Sam's Town Hotel and Gambling Hall has once again transformed its Mystic Falls Laser Light and Water Show into a winter wonderland experience, complete with weekly visits by Cowboy Santa. The free 15-minute winter laser light spectacular will take place at 6 p.m., 8 p.m. and 10 p.m. nightly through January 1.
Photos by Darrin Bush, courtesy of Las Vegas Convention and Visitors Authority