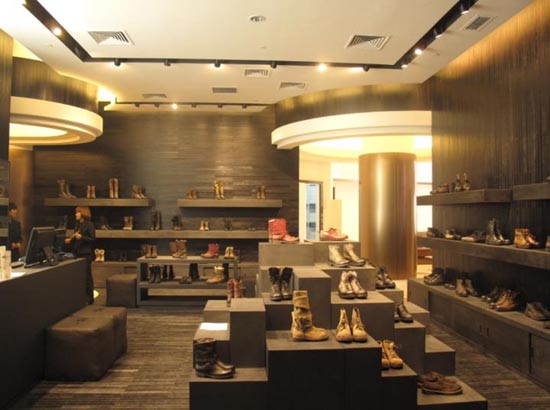 MILAN, Dec 20, 2011/ FW/ — O.X.S., the footwear brand that is part of Linea Marche, has inaugurated its first flagship store in China: a significant and strategic investment in a market that, in terms of future potential, is always of primary importance and that, as of today, represents a fundamental step in the brand's international development strategy.
In fact, O.X.S. has reached a major partnership agreement with a leading Chinese company, the Sasseur Group, to open its first flagship store in the city of Hanghzou, inside the prestigious Sasseur International Life Plaza mall.
Located in an area that is part of an ambitious urban renewal project, the brand boutique in Fashion Point 039 – the section dedicated to products Made in Italy – is in a space dominated by the warmth of black-tinted wood where a sense of modernity lends further confirmation to the identity of O.X.S..
Moreover, the detailed design of the space and the expert lighting contribute to enhancing the products, all dedicated to target trendy young consumers.
"The debut of O.X.S. in China is accompanied by great enthusiasm about being able to propose and promote our know-how, our creativity, and our quality of "Made in Italy", which has always been the starting point and our future," declared Renato Curzi, owner of Linea Marche.
"The agreement reached with the Sasseur group also calls for the opening, over the next three years, of a series of stores covering various major cities in China, using a retail model that we believe is best-suited to that market."
The choice of Hanghzou, in fact, is dictated by the promising future of this city, which is already among the richest and is about to become, from an economic and consumption points of view, one of the forward-looking centres of China, a city of IT and technical development situated near Shanghai where the population – which numbers about 4 million inhabitants – is particularly receptive to western fashion.
So the O.X.S. relaunch and international development plan continues, relying on a strong presence – in addition to Italy, as well as in France, Germany, Turkey, and Benelux – in an area of the world of fundamental importance and potential: the partnership with this important Chinese group, together with expansion on Canadian and U.S.A. markets, in fact, is hoped to bring in a noticeable increase in turnover abroad.