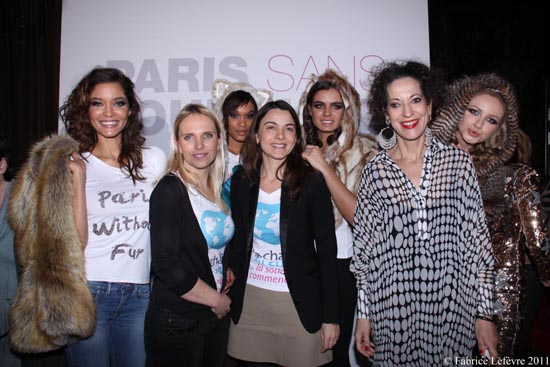 PARIS, Jan 31, 2012/ — On Thursday January 26th One Heart Channel, the first solidary media outlet and ecofriendly web tv Neoplanète, have organized a special fashion show "Paris without Fur" at the l'Hôtel Fouquet's'Barrière in order to present chic and ethical alternatives to natural fur.
The show took place at the last day of Paris Couture Fashion Week. The two organizations wanted to show the public opinion how animals are treated by the fur industry. PETA France supported this event.
Amazing American Brand Name Spirit Hoods, Polish Designer PLICH, C & A, Etam, and other brand names have shown their latest collections during the "Paris without Fur" fashion show.
Models from UP MODELS agency have strutted down the runway with elegance and humor promoting the organizations' main message to the public, which is: winter can be warm and trendy without killing innocent animals.
The French press, many representatives of the fashion industry, as well as celebrities came to the event to show their commitment and solidarity to this ongoing problem. This fashion show was organized voluntarily thanks to the help of the show partners (Hôtel Fouquet's Barrière, Make Up Forever, Up Models, MHT, Fourrure Torture, Kobold…)