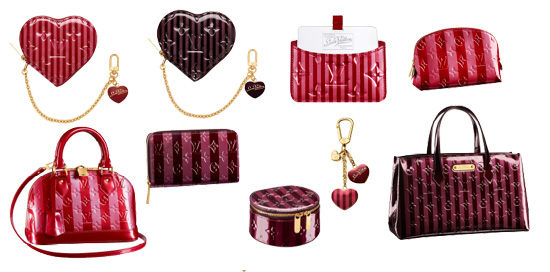 NEW YORK, Jan 13, 2011/ — For Valentine's Day 2012, Louis Vuitton dresses up its leather goods and accessories, great and small, in stripes. A pattern taken directly from the legendary striped canvas, now reinterpreted in sweet and luscious blushing bonbon colours for this season.
Monogram Vernis Rayures offers a fresh, contemporary take on the historic striped canvas by combining it with the iconic Monogram flower and drenching it in radiant red tints, Amarante and Pomme d'Amour, symbolic shades synonymous with passion and seduction.
These two new models are available in smaller forms of leather goods (Alma BB, Whilshire PM) and in a small leather goods collection that includes a choice of wallet, purse, cosmetics clutch and mirror case, for a flawlessly feminine and very personal Valentine's Day gift.
Available starting January 2012 in Louis Vuitto
Prices starting at €230.