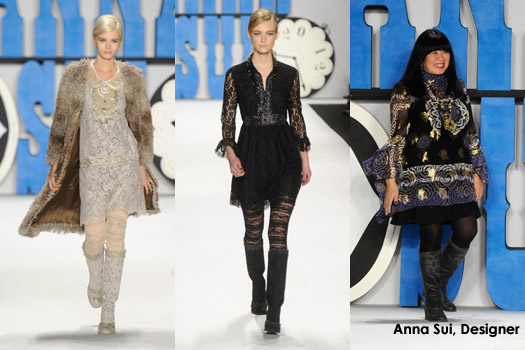 NEW YORK, Feb 15, 2012 / — In front of a full capacity crowd plus standing room only, Anna Sui unveiled a whimsical and elegant collection that got the audience going from the first exit to the last.
The prairie girl had turned metro girl in this very wearable and highly covetable collection that featured shearling capes, plaid jackets and chunky cardigans, all must have for a city girls fall and winter wardrobe.
Anna Suis whimsical prints took center stage together with stripes and solid colors making this a collection that has something for everyone. But, dont think for a moment that Anna Sui had turned plebeian. The collection remains high street.
What is interesting this season is the incorporation of the prairie girl elements to the sophisticated Fifth Avenue socialite. And thus, a new signature look for the Anna Sui girl has been born.
[MARI DAVIS]