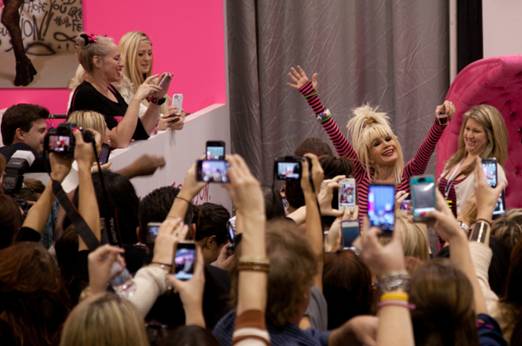 LAS VEGAS, Feb 15, 2012/ — Whether you were in Las Vegas for MAGIC this year or got caught up in the New York Fashion Week chaos, I wanted to share some of the exciting happenings from WWDMAGIC this week.
On Valentine's Day, Betsey Johnson stopped by the Las Vegas Convention Center and shared the love with a crowd of adoring fans while also previewing her upcoming collection.
A few of the industry's hippest fashion bloggers came together and shared tips and trends in the Teen Vogue Blogger Lounge. A few of these bloggers included: The Curvy Fashionista, FashionIndie, Styleline, Wendy's Look Book, Fab Fit Fun, Fashion Bomb Daily, among a few others.
MAGIC attendees had the chance to enjoy new trends with the daily fashion shows and awed at an amazing Chanel installation while getting their 'Dreaming of Chanel' book copies signed by the author, Charlotte Smith.