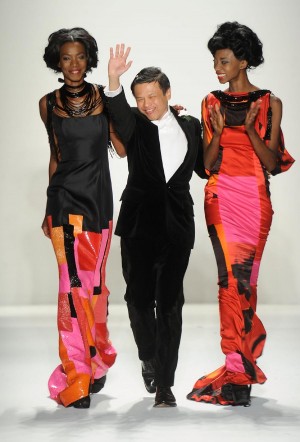 NEW YORK, Feb 13, 2012/ FW/ — "It's another standing ovation," commented two socialites who were sitting front row at the Zang Toi Fall 2012 show this afternoon at the Lincoln Center.
Indeed it was! Having followed Zang Toi's career since 2000, the New York-based designer continuously received kudos from the fashion flock season after season. And, it is not just at the fashion show, mind you. When Zang Toi brings his collections to his famous trunk shows, he always wows the ladies, mind you.
So, what is Zang Toi's magic? His Fall 2012 collection easily answers that – the subtle elegance of fine workmanship and attention to details.
To Zang Toi, clothes are about the woman, not the other way around. Hence, when a woman wears a Zang Toi creation, she is the center of attention; her grace and beauty enhanced by the masterfully tailored garment and beautifully designed clothes that fit her like a second skin.
Always exuberant in his designs, Zang Toi has found the perfect pitch between silhouette and embellishments. A born colorist, he has even found the balance between using black, gray, white and the brilliant color red.
This season, while black, gray and white dominated, red was the highlight as the Malaysian-born designer sent different shades of red. In fact, the original graphic print of reds that graced the runway summed up all the colors in the collection.
Also, a happy note this season – everything shown on the runway was designed by Zang Toi. From the clothes to the shoes, the jewelry and the make-up, all of them bear the Zang Toi brand.
The cosmetics line had been out in Asia for the past two years and it is expected to hit U.S. stores in September 2012!