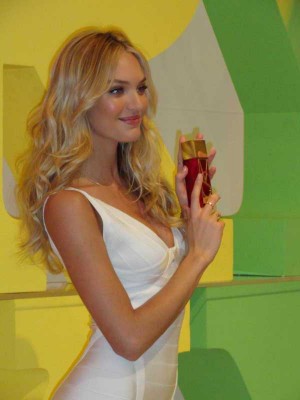 DALLAS, Mar 22, 2012/ — Yesterday's Spring equinox heralded todays arrival of Victoria's Secret's Angel Candice Swanepoel as she brought with her the freshness of the Very Sexy Collection of underwear and perfume.
Looking very sexy in a white Hervé Leger mini dress, Candice Swanepoel talked about the Very Sexy Tour which kicked off in Miami, then traveled to New York and Chicago before finally arriving in Dallas.
"Dallas is the last stop the Very Sexy Tour," said Candice Swanepoel. "And everywhere we go, including here in Dallas, everyone is thrilled with the new Very Sexy Collection. With its very low V, the new Very Sexy bra shows a lot of skin. And since you can wear it 5 ways, it is a perfect bra for all occasions.
Though touting the qualities of the Very Sexy Bra, Candice confessed that her favorite Victoria's Secret bra is the Angel's Collection because "it has a little bit of push up and a great everyday bra" for her.
"It has really been an exciting spring tour for Very Sexy," commented Candice. "But, it gets tiring too, so the support of the fans has really helped me to keep going. When I see their messages on Twitter and Facebook, it helps take away the fatigue due to traveling. So, thank you everyone for your continued support."
[MARI DAVIS]
Photos by Mari Davis