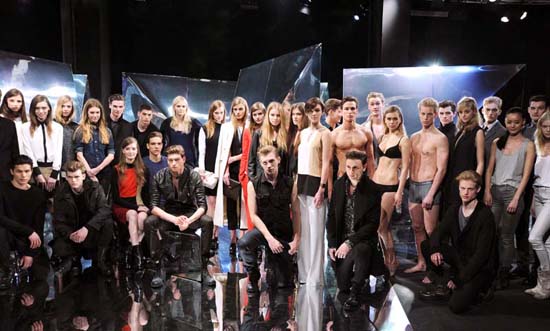 NEW YORK, Mar 22, 2012/ — Last January and February, Italo Zuchelli and Francisco Costa unveiled the Fall 2012 Calvin Klein Collection for men and women, respectively. Now, it's Kevin Carrigan's turn as the famed designer presented the Calvin Klein Fall 2012 men's and women's lines here in New York.
With men's and women's sportswear, tailored clothing, dresses, jeanswear, performance, outerwear, underwear, footwear, accessories, watches and jewelry, as well as the new ck one color cosmetics in the mix, the Fall 2012 Calvin Klein collection is a sexy, urban aesthetic was seen across all of the brands.
Inspired by modern city life, the sportswear was graphic and textured in an iconic palette of black and bone. For the complementing accessories, it was all about the sophisticated clutch and boot.
The sultry mood of the season was enhanced with the new 'Liquid Metal' offering from Calvin Klein Jeans, which includes precious metal inspired denims for women and edgy, leather coated styles for men.
A sleek assortment of ck Calvin Klein watches and jewelry, which celebrate their fifteenth anniversary this year, added a polished refinement. Fall 2012 also introduced Calvin Klein Push Positive, an innovative push-up providing a superior fit in a complete range of vivid hues and classic neutrals.
For the presentation, models wearing looks from the Fall 2012 lines posed in reflective, glossy vignettes within a larger seductive, all black setting.
For the global launch of the ck one color cosmetics line, a beauty bar filled with the vibrant products was set up opposite stations with the brand's newly named makeup artists – Jodie Boland, Kristi Matamoros, and Hung Vanngo – demonstrating the line's 'look real,' 'define yourself' and 'add intensity' concepts.
Photos by © 2012 Billy Farrell/BFAnyc.com